Ravella Hotel & Resort
the hotel and its features
The Ravella Hotel & Resort Casino
Arriving at Ravella (this used to be called The Ritz-Carlton, but is the same hotel) will remind you of a beautiful story book setting. Suddenly you see an oasis in the desert. There you will find a sparkling lake called Lake Las Vegas , white sandy beaches, and a very romantic Tuscan inspired resort complete with lush grounds and archways spanning over a lake. All of this is just 17 miles from the Las Vegas strip. There are only 348 rooms and suites in this luxury resort.
What to expect: There is a sense of old world elegance throughout the resort. You are surrounded by a 320 acre lake. The lake offers water sports including catch and release fly fishing as well as romantic gondola rides. Hiking and biking are available along with outdoor swimming pools and even a whirlpool. Provision has been made for stargazing. There is a beautiful lagoon and water-fall for your enjoyment. Two boutiques are located within the resort as well as a spa, salon and fitness center.
Location: Location: About 30 minutes from The Strip, in Henderson.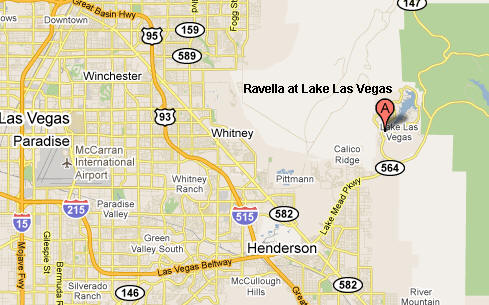 Cool off in the aquamarine waters of their resort-sized pool, or linger in the shade of your reserved cabana. Their staff will be happy to deliver a frozen cocktail of your choosing from the Lagoon Bar & Grill to your personal poolside oasis. Each luxurious cabana features ceiling fans, refrigerators, and misters to keep the temperature low as the sun climbs in the sky. When dusk begins to fall, join friends or family in the year-round whirlpool spa and give a relaxing start to the evening ahead and the rest of your vacation.
The hotel does not have a casino, but the neighboring Casino MonteLago, a 40,000-square-foot casino, is located just steps away in the MonteLago Village.
Casino MonteLago offers more of your favorite slots, plus the latest technology in electronic table games. Join Club MonteLago for exclusive rewards and promotions. Enjoy fine dining at Harry's, located in the casino.
Golf enthusiasts the world over seek out Lake Las Vegas for its convenient access to a wide variety of golf courses, allowing golfers of every handicap to customize their experience to their skill level and price point. For these reasons, Golf Digest bestowed its coveted Gold Medal Resort on the area, while USA Today named it one of the top 10 golf destinations in the country. As a guest of Ravella at Lake Las Vegas, you'll enjoy priviledged access to one of the best the neighboring private course for an unforgettable day on the links.
The Spa at Ravella
Strip away layers of built-up tension to reveal a happier, healthier version of yourself. Their full-service day spa at Ravella at Lake Las Vegas offers luxury treatments designed to soothe stressed skin, relax fatigued muscles, and re-energize your spirit. After a day of recreation under the Southwestern sun, renew your skin with facial techniques inspired by the very desert itself.
Schedule a massage from one of their skilled staff members to rid your body of stress and fatigue. Their 24 treatment areas include rooms dedicated to romantic massage experiences for couples, while the salon allows both men and women to pamper themselves with a full range of aesthetic services.
At Ravella at Lake Las Vegas in Henderson, they're committed to providing you with wholesome, nourishing food choices that will give you the energy you need to stay active and productive. Their emphasis on market dining means you're able to choose from a wide array of fresh, seasonal dishes sourced locally and prepared onsite. Consider it thoughtful food for thoughtful minds.
Medici Café and Terrace
This is a magnificent restaurant featuring the finest foods of Italy along with prime steaks. It is located adjacent to the hotel's Florentine Gardens where you can dine outdoors if you wish. There is a breakfast buffet on Sat. and Sunday. Dinners are served Wed. through Saturday. Sessions with the chef are held to teach Italian cuisine. Children's menus are available upon request.
Lagoon Bar & Grill
Whether you're relaxing by the pool, unwinding in a cabana, or soaking up the rays by the lagoon, their seasonal Poolside Café and Terrace provides refreshing fare to see you through the day. Choose from icy, tropical cocktails and fresh wraps, seafood, and salads served right to your own cabana. From small snacks, such as hummus and pita bread to a mouth-watering Black Angus burger, fresh wrap or healthy salad, the Lagoon Bar and Grill delivers delicious food and refreshing drinks to you poolside. Finish the meal with an icy, tropical cocktail like Ravella's signature Lagoon Breeze or Day at the Beach.
Firenze Lounge
This restaurant is in a warm almost living room setting. Aside from good food it offers a wonderful view of the lake. Some have described it as picturesque. On Sat. and Sunday afternoon tea is served including scones and finger sandwiches. It has an excellent bar and champagne is sold by the glass. It features all day dining. And if all that is not enough, it also features macaroni Monday.
Dining at the Village
Explore a wide range of unique restaurants and eateries at The Village while enjoying breathtaking views of Lake Las Vegas.
Village dining options include: The Auld Bubliner (Old-Fashioned Irish Cuisine), Bernard's Bistro (French Cuisine), Luna Rossa (Italian Cuisine), Rocky Mountain Chocolate Factory (Chocolates, Caramel Apples, Fudge and More), Sonrisa Grill (Mexican Cuisine), Sunset & Vines (Wine, Cocktails and Tapas), and Tutti Gelati (Italian Gelato).
A beautiful and elegant hotel makes for a beautiful and elegant wedding. The first place to consider as a site for a wedding should be the Chapel Fiorenze. It is a magnificent building with high beam wooden ceiling beams and a stone floor. The pews are of carved wood. The chapel gives you feel a sense of spirituality when you walk inside. There are special rooms for the bride and the brides maids.
Aside from the Chapel there are other magnificent venues for a wedding at the Ravella. They are; Florentine Gardens for the reception, Tuscany Room for wedding festivities , Ravella Ballroom, Montelago Ball Room, White Sands with waterfall, Pontevecchio Park Pavillion and the Pontevecchio park Gazebo.
39,000 square feet are available for meeting space. The Ravella understands and specializes in the unique requirements for business meetings, whether it is the launching of a new product or a more sedate board of directors meeting. They offer their special brand of impeccable service. This also includes are well planned memorable banquet menus.
room suites and their featuresBack to Top
The rooms of course reflect the overall elegance of the resort. They are done in warm soft colors. From the rooms there are breath taking views of the lake, village, gardens and or the desert mountains and other magnificent scenery. You will find luxury bed linens along with goose down comforters, pillows feather beds. The bathrooms have a separate oversized bath and shower. There are double sinks. All of this to be enjoyed while wearing the provided luxury bathrobes. You will find coffee and tea presentations in the room. You will find a 37-inch high definition television in the room. The suites have a 42-inch high definition television. Other electronic amenities are a WiFi and high speed internet access along with an ipod docking station. Each room has a safe.
LAKE LAS VEGAS DOUBLE
With views of either Lake Las Vegas or the Mojave Desert providing a spectacular backdrop, their 468 square-foot Double Rooms encourage relaxation with classic furnishings, helpful amenities, and plenty of natural light. After an exciting evening on the Las Vegas Strip, look forward to a restful night's sleep on one of two double feather beds with 350 thread-count linens.
Complimentary newspapers, dual-line cordless telephones, and free Wi-Fi keep you connected while on the road, while a personal work desk lets you stay productive at their hotel. Wrap yourself in a cozy bathrobe and turn on the 42-inch flat-screen television for the morning news, or revive your senses in the marble bath with Gilchrist & Soames products.
LAKE LAS VEGAS KING
Elegance and comfort merge in their 486 square-foot King Rooms, which feature comfortable king-sized feather beds, helpful amenities, and peaceful views of either Lake Las Vegas or the Mojave Desert.
At the end of a long day, slip between premium, 350 thread-count linens and watch an in-room movie on your 42-inch flat-screen television before drifting into a peaceful night's sleep. In the morning, catch up on the news with a complimentary paper while sipping fresh-brewed coffee at the hotel.
Those traveling on business can keep up with the office at a personal work station equipped with free Wi-Fi and dual-line cordless phones. As you ready yourself for a day of paddle boating on the lake or shopping in the village, a marble bathroom stocked with Gilchrist & Soames products will help you start your morning feeling refreshed and renewed.
EXECUTIVE SUITES
Their 960 square-foot Executive Suites blend convenience with comfort in an expansive space outfitted with classic furnishings and spectacular views.
Gather in a separate living area with friends and family as you take in a radiant desert sunset. Or, turn on your 42-inch flat-screen television, order something delicious and wholesome off of the in-room dining menu, and settle down on the sofa for a relaxing night in at their hotel.
They'll make sure you have everything you need to stay productive if you're traveling on business, from free Wi-Fi to a personal work desk, dual-line telephones, and a complimentary newspaper. After a long day spent practicing your golf swing on a championship course or discovering the thrills of the Las Vegas Strip, sink into a peaceful slumber on a plush king-sized feather bed with 350 thread-count linens. In the morning, revive your senses in the marble bath with Gilchrist & Soames products while preparing for another unforgettable day at Lake Las Vegas.
PRESIDENTIAL SUITE
Stretching out over an impressive 2,400 square feet, each of their two luxury Presidential Suites exemplifies style and comfort. Sit down with colleagues for an impromptu meeting or unwind with friends. With the glittering waters of Lake Las Vegas providing a stunning backdrop, relax on classic furnishings and watch a movie on your 42-inch flat-screen television.
A separate dining room provides a sophisticated spot for a gourmet meal from in-room dining. When it's time to turn in for the night, sink into a king-sized feather bed with 350 thread-count linens and experience a deep, restful sleep.
In the morning, your marble bathroom stocked with Gilchrist & Soames products will renew your senses and help you meet the day. Enjoy a soothing soak in the bathtub, then wrap yourself in a cozy bathrobe. To keep you in touch with the outside world, they provide you with a complimentary newspaper, dual-line cordless telephones, and a work desk with free Wi-Fi.
Copyright (C) 2013 Las Vegas Direct. All rights reserved