Prim Valley Resort
the hotel and its features
Spacious Countryside Resort
A peaceful, yet classic experience, away from the glitz of the Las Vegas strip.
Nearby Fashion Outlets of Las Vegas inside Primm Valley, offer gifts, souvenirs, snacks, books, and more.
Primm Valley Resort and Casino, is located 40 miles southwest of the Vegas Strip on the California/Nevada state line.
What to expect: Fabulous Primm Valley boasts 660 good-sized, fairly priced rooms, which are spread over four wings, providing a welcome change from the skyscraper-style accommodations that prevail on the Strip.
Amenity Highlights: Offers an array of amenities to guarantee its guests' comfort and convenience – these include wake up calls, daily housekeeping, a 24-hour front desk, handicap facilities, safety deposit boxes, valet parking, ATMs, laundry service, and much more.
Location: Primm, Nevada (40 miles from Las Vegas)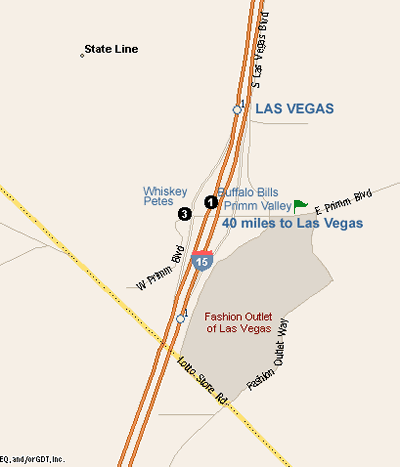 One 78-by-78 foot outdoor pool. Hours vary by season. During peak summer months, the pool open daily from 10am to 8pm.
After a fun-filled night in the casinos, spend a day relaxing with a soothing massage, an invigorating facial, or a complete body scrub. The Spa at Primm Valley is the perfect place for you to unwind and let your cares melt away. A day in The Spa is nothing short of pure luxury and relaxation at its finest.
The Lakes Course and the Desert Course combine the natural beauty of the desert with challenging course layouts by renowned golf architect, Tom Fazio. Both of these pro-style courses will put every single one of your skills to the test. If you're up to the challenge, book a tee time through Primm Valley Resort where you can also get exclusive deals and offers not available anywhere else.
Star of the Desert Arena
You don't need to travel all the way to Las Vegas to see the biggest names in show business. You can see them right there at the Star of the Desert Arena. Brooks & Dunn, B.B. King, John Michael Montgomery, Chicago – these are just a few of the big names that have hit the stage in their 6,500-seat arena. From headlining concerts to rowdy rodeos, from hard-fought boxing matches to unforgettable music, the Star of the Desert Arena features it all.
The Vault
Experience a pulse-pounding adventure that takes you through new and different worlds aboard The Vault. This 3-D, high-definition digital projection motion ride is the first in the United States, and will carry you to places of incredible imagination, from a dizzying magic carpet ride in Arabia to an old ghost mine ore-cart ride in the old west. There are ten different ride scenarios in all.
The Desperado
Take in breathtaking views of the entire valley from 209-feet above the desert floor then brace yourself as you plunge downward at death-defying velocities before rolling into a succession of heart-stopping twists, turns and unexpected surprises. As one of the tallest and fastest roller coasters in North America, The Desperado is ranked among the Top 10 in the country. If you think you have the nerve, The Desperado will show you three minutes of pulse-stopping fun.
Maxflight Cyber Coaster
This virtual coaster will take you on your choice of high-flying roller coaster fun from coasters all around the world. It's a world-tour adventure all in one ride.
Frog Hopper
Taking the game of leapfrog to a new level, this mini thrill ride is a kiddy-sized free-falling adventure that's loads of great fun for youngsters of all ages.
Buffalo Bill's Arcade
The Buffalo Bill's Arcade features a ton of action-packed video and pinball games. Challenge your driving skills on world-class tracks at top speeds, sharpen your martial art's techniques, or shoot to win all in one place. And there's more arcade action at both Primm Valley and Whiskey Pete's arcades.
Adventure Canyon Log Fume
You emerge from a darkened tunnel and immediately hit swirling rapids that lead you up a mountain ascension where you enter yet another eerie passage. And then, without warning, you plunge more than 50 feet down a drenching drop off that takes your breath away and leaves you screaming for more. As you recover from the laughter and thrills, your log gently carries you inside Buffalo Bill's through the heart of resort. It's an amazing, unique ride you'll want to do again and again.
Carolee Theater
The Carolee Theater is a cozy, old town-style theater showing the latest releases and featuring the brightest stars. If you're in the mood to share a bag of buttery popcorn and catch a great movie, the Carolee Theater is the perfect venue.
O'Mulligans at Primm Valley Resort
Come and enjoy many fine beers being served on tap while you dance the night away to live music every Friday and Saturday at the Irish Pub at Primm Valley Resorts.
Bonkerz Comedy Club at Primm Valley Resort
Primm Valley Resort & Casino is flaunting its funny bone at the Bonkerz Comedy Club. This historic comedy club first opened its doors in Orlando, Florida, in 1984, and has since expanded to more than two dozen locations. Shows will be offered Friday and Saturday evenings.
Pete's Place at Whiskey Pete's
Their very own Whiskey Band keeps things real low key there at Pete's Place, where dancing is permitted but certainly not required. Enjoy the show while shooting pool, tossing darts or throwing back a few brews -- whatever makes you happy.
Stage Bar at Buffalo Bills
The Stage Bar features an intimate setting within a cozy bar. It's just the place to catch great up-and-coming bands live, as well as other brilliant lounge acts.
If you love to shop, the Fashion Outlets of Las Vegas is your dream come true. Attached to Primm Valley Resort, you can walk into an air-conditioned shopper's paradise and save big on designer brands like Nike, Coach, Banana Republic, Gap, and over a hundred more top names.
GP's Steakhouse at Primm Valley Resort:
Soak up the 1930's country club atmosphere as you dine on superb American and European cuisine. Start off with Maryland crab cakes or a jumbo shrimp cocktail, then move onto steak au poivre, or prime-rib lovingly prepared and aged to perfection. Finally, indulge your sweet tooth with their flaming Cherries Jubilee, Banana Foster, or Crepes Suzette prepared right before your eyes.
The Original Pancake House at Primm Valley Resort:
Known for its extensive knowledge of authentic pancake creations and innovative recipes using only the finest ingredients, The Original Pancake House has earned countless awards, both locally and nationally. Every morning, the restaurant freshly squeezes orange and grapefruit juices. Batters for pancakes, crepes and waffles are made from scratch daily. Enjoy the mouthwatering creations of the Original Pancake House day and night.
Rosie's Pizzeria at Primm Valley Resort:
Sink your teeth into great pizza flipped New York-style. Come hungry and enjoy a little taste of back east.
The Coffee Corner at Primm Valley Resort:
Located next to the front desk at Primm Valley Resort, the Coffee Corner is the place to grab a quick, piping-hot cup of coffee in the morning, or relax with a pleasant cup of chai tea in the afternoon.
O'Mulligans Pub at Primm Valley Resort:
Toast your friends with a frothy beer or grab a delicious bite at O'Mulligan's Pub, where everyone's a little bit Irish. If you're looking for some live music, Friday and Saturday are your lucky days!
Country Club Buffet at Primm Valley Resort:
Make sure you come to the Country Club Buffet hungry. They've combined the value of the all-day buffet with an amazing array of choices, and the result is an endless cornucopia of spectacular offerings sure to satisfy even the heartiest appetites.
McDonalds at Whiskey Pete's:
McDonald's is an American institution that never disappoints.
Ramon Ayala's Cocina & Cantina at Buffalo Bills
At Ramon Ayala's Cocina & Cantina, the authentic Mexican cuisine is often accompanied by a live mariachi band as well as other Latin-inspired lounge acts. That's why every feast is a fiesta at the Grammy-winning King of the Accordion's signature restaurant.
IHOP at Whiskey Pete's:
Enjoy an affordable, everyday dining experience that is combined with the warm and friendly service signature to IHOP. Day or night, the eatery will dish out a variety of signature pancakes and omelets as well as offer a broad array of lunch, dinner and snack items.
Denny's at Buffalo Bills:
Open every hour of every day, Denny's can satisfy any whim that strikes you. From freshly cracked eggs to savory salads to juicy burgers, Denny's features an endless list of possibilities to fuel your day.
La Salsa Mexican Grill at Buffalo Bills:
Add some spice to your stay with burritos stuffed with flavor, tacos filled with only the freshest ingredients and the best guacamole around!
Crossroads BBQ, Booze and Blues at Buffalo Bills:
For a smokin' good time with a down home feel, head on into Crossroads BBQ Booze and Blues, and dig right into classic barbeque fare, rubbed to savory, Memphis-style perfection. Featuring smooth booze and live blues every Saturday.
Miss Ashley's Buffet at Buffalo Bills:
If you're in the mood for some delicious, home cookin', Miss Ashley's will quickly become one of your favorite stops. You won't find food you can't pronounce there – just all-you-can-eat traditional American food that tastes great and fills you up.
Haagen-Dazs at Buffalo Bills:
Treat yourself to the finest ingredients and the finest creations. From classic flavors like Rocky Road and Vanilla, to Brownies à la mode and Cookie Dough, Häagen-Dazs serves up a distinct richness and quality in every pleasing concoction.
Panda Express at Buffalo Bills:
From traditional Chinese favorites to fresh new taste creations, enjoy all of your favorite Wok dishes, like Orange Peel Chicken, Sweet and Sour Pork and tasty egg rolls.
room suites and their featuresBack to Top
Each of Primm Valley Resort's 624 luxurious guest rooms envelop you in genuine elegance the moment you cross the threshold. Each room has been newly renovated from floor to ceiling, and boosts a comfortable, modern décor that feature large plasma TVs, granite countertops and bright, contemporary colors.
Copyright (C) 2013 Las Vegas Direct. All rights reserved