Plaza Hotel
the hotel and its features
Classic Downtown Vegas
This hotel is situated at the tip of Fremont Street and its sound-and-light shows.
The Plaza has an 80,000-square-foot casino with sports book and poker room, a bingo parlor, a comedy club, and a rooftop terrace with pool, tennis courts, and jogging track.
The hotel offers 1,037 guestrooms in two connected towers of 21 and 25 stories. Rooms have city or pool views.
What to expect: What to expect: Situated at the tip of famed Fremont Street, the hotel attracts a clientele seeking gaming action and entertainment in the traditional setting of downtown Las Vegas—but away from sightseers thronging the Las Vegas Strip, which begins two miles south.
Amenity Highlights: Set between the hotel's two towers is a rooftop terrace featuring a 50-by-30-foot swimming pool, four lighted tennis courts (complimentary), private cabanas with televisions (surcharges), and a quarter-mile, artificial-turf jogging track.
Insider tip: The hotel's celebrated Center Stage Restaurant & Lounge has frequently served as a shooting location for movies and television (Casino). Servers recount that history and reel off lists of celebrities who've dined in the restaurant.
Location: Downtown, Las Vegas - 4 Miles North of the Strip
Enjoy one of Las Vegas' most iconic pools and captures great views of Las Vegas and Fremont Street on the Plaza's rooftop pool. The pool is located on the 5th floor in their South Tower or the 7th floor of the North Tower.
The hotel's 80,000-square-foot casino offers slots, video-poker, blackjack, roulette, craps, baccarat, and pai gow poker, and includes a keno lounge, a poker room, and a race-and-sports book. A 400-seat bingo parlor offers eight sessions daily, and complimentary membership cards are available for the casino's players club, which offers cash, comps, and other rewards for play.
The Phat Pack
The Phat Pack offers a Broadway musical review experience in a downtown Las Vegas show. Discover three theatre personalities in a new light as they tell their own stories. Great music, laughs and inspiration for all audiences.
Zbar
Modern cocktails and live entertainment in a classic Vegas setting. Come let loose and enjoy their signature Happy Hour, Monday thru Thursdays from 4pm to 7pm.
Bonkerz Comedy Club
Get ready to laugh yourself silly as Joe Sanfelippo brings hard hitting comedy to downtown Las Vegas. Bonkerz will offer shows Thursday – Saturday at 7pm with comic impressionist Rich Natole and at 9pm with The Guidos of Comedy and on Sunday and Monday at 7pm with Vintage Vegas Comedy and Magic Revue.
fremont street experienceBack to Top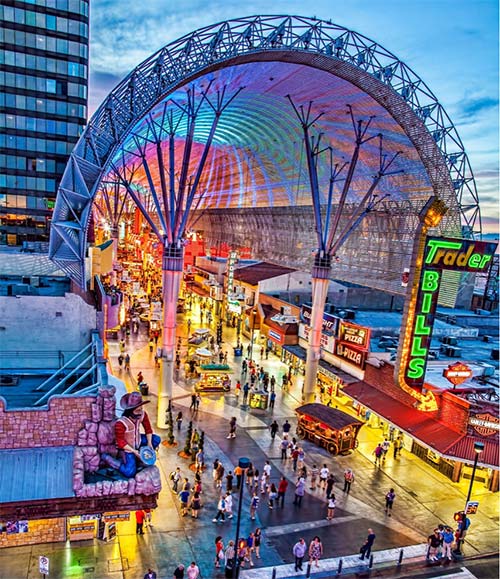 Under a vault of two million light bulbs, a four-block pedestrians-only stretch of downtown Las Vegas called Fremont Street Experience presents periodic sound-and-light shows from dusk to midnight. Other day-and-night entertainment on the street includes live music, classic-car displays, and holiday festivals. Like nine other downtown hotel casinos, Four Queens opens directly onto Fremont Street, creating a lively flow of pedestrian traffic.
Exposed Hair Salon is the creation of Las Vegas entertainer and entrepreneur, Anthony Cools, and features female stylists wearing bikinis and classy lingerie. This eye candy salon has two separate sections and entrances for men and women, with a total of 14 styling stations for male customers, as well as eight stations for female clients. This unique hair salon creates an erotic hair experience and features a rock 'n roll music atmosphere with cocktail service.
Oscar's Steakhouse
Oscar's Steakhouse is considered one of the best steakhouses in Vegas, enjoy this classic setting for an unparalleled dining experience.
Hash House A Go Go
Hash House a Go Go is one of the most popular breakfast spots in Las Vegas and their downtown location offers the farm fresh and hearty food for hungry visitors morning, noon, and night!
Island Sushi & Hawaiian Grill
Island Sushi is the your personal Hawaiian getaway in downtown Las Vegas. Select from the best poke in the West and feel the spirit of aloha. Their downtown Vegas sushi restaurant is a unique south pacific option that will leave you saying mahalo!
Pop Up Pizza
Pop Up Pizza in Downtown Las Vegas is the newest addition to the Pop Up Pizza family and the best pizza on Fremont Street! Get delicious hand tossed pizzas with fresh and exciting toppings that will please even the toughest pie connoisseur.
Gigi's Cupcakes
Gigi's Cupcakes offers signature swirl cupcakes freshly baked every morning. Featuring over 30 delicious cupcake varieties including s'mores, chocolate cream pie, banana split, lemon ice box, cherry limeade and coconut cream pie, you won't be able to resist!
The Plaza's Food Court
Conveniently located next to the Plaza hotel lobby, for a quick snack or beverage, the Food Court offers a wide selection of restaurants to meet any taste.
room suites and their featuresBack to Top
Stay at the historic Plaza Hotel and Casino and discover downtown Las Vegas at its best. With more than 400 affordable and comfortable rooms and suites, it is easy to find a room that matches your mood and budget. Request a room with a spectacular view of the Fremont Street Experience or relax in one of their deluxe suites set to maximize comfort.
Deluxe Room, Deluxe Room with View or Deluxe Room with Fremont View
Completely renovated and entirely luxurious, their Deluxe Room features 1 King bed or 2 Queen beds with first-class bedding, 32-inch flat-screen TV with premium cable channels and pay-per-view options, wireless Internet access, an in-room safe and marble bathroom. Choose the Deluxe Room with View of the Las Vegas Strip or their Deluxe Room with View of Fremont Street.
Mini-Suite
The Plaza's mini suites offer a unique and comfortable space complete with a cozy loveseat, full wet bar and seating area and a plush King bed. All hotel rooms have a 32-inch flat-screen TV with premium cable channels and pay-per-view options, wireless Internet access, an in-room safe and marble bathroom.
One or Two Bedroom Suites
Enjoy the Plaza's cheap Las Vegas rooms that provides luxurious one or two bedroom suites that include a King bed or 2 Queen bed layout, marble bathrooms, an in-room safe, 32-inch flat screen TV with premium cable channels and pay-per-view options and wireless Internet access. An adjoining Parlor room is available with a cozy loveseat and seating area.
Penthouse Suites
Located on the top floor of the Plaza Hotel & Casino, seven Penthouse Suites are available for weddings, meetings and corporate functions, as well as the occasional stay. Featuring Las Vegas Skyline views, mini-bar, spa style marble bathroom, an in-room safe, and a 40-inch flat-screen TV with premium cable channels and pay-per-view options, the Penthouse Suites are a luxurious hotel room option in Las Vegas for your next occasion or stay.
Copyright (C) 2013 Las Vegas Direct. All rights reserved