M Resort
the hotel and its features
You can actually save money by staying at this up-scale hotel because it is located just a 10 minute drive from the heart of the glamorous Las Vegas Strip. The hotel sits on 90 elevated acres which gives its guests a wonderful view of the strip and mountains. It is considered as a real gem, even by the jaded locals who actually stay there. A wine cellar, bars and interesting restaurants are a part of the hotel's charm. They were created to hold the guests complete interest.
The hotel is built in the shape of the letter "U". As a result almost any venue in the hotel offers a view of the stunningly beautiful Villaggio Pool and Entertainment Piazza.
Location: About 20 minutes from The Strip, in Henderson.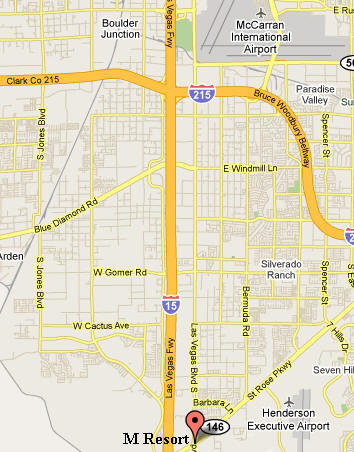 M Resort boasts over 100,000 square feet of pool and entertainment space. The main pool area features two, 5,460 square foot chlorine, heated, infinity edge pools and two large Jacuzzis surrounded by fire torches. Both pools are four feet at their deepest and feature an eight-inch wading depth pool on each end. The intimate 12,000 square-foot DayDream Pool features cabanas, daybeds, lounging areas, an ice-railed bar, DJ booth, hot tub, and an infinity-edge pool and spa. The DayDream Pool, Villaggio del Sole Pool and Entertainment Piazza are equipped with a state-of-the-art sound system, which keeps the energy high as it plays upbeat music throughout the entire pool area. With over 400 lounge chairs in the main pool area there is ample seating for optimal relaxation.
M Resort cabanas are available for guest rental. Each cabana is equipped for the ultimate poolside experience featuring many upscale amenities including chaise lounges, 32-inch LCD television, telephone, mini refrigerators, iHome docking station (available upon request). If you need to beat the heat, relax inside the cabana and enjoy a breeze from the ceiling fan
For the utmost in luxury and privacy, VIP cabanas are also available to rent daily. These cabanas are located closer to the entertainment piazza and further from pool guests. VIP cabanas are stocked with all the same amenities as regular cabanas. Each VIP cabana contains a personal infinity edge hot tub, a private shower and access to a private sundeck.
M Resort also offers relaxing daybeds to enhance your poolside experience. The comfortable and stylish daybeds are located between the two main infinity pools and along the pool deck, giving guests a primetime view and a pampered retreat for the day. Daybeds are covered with a canopy and curtains, which can be closed for extra privacy.
You name the game and you will probably find it in the over 92,000 square foot casino. There are 1847 slot and video poker machines. You will find your game of choice on one of the 64 tables. A state of the art sports and race book are right there. VIP players have their own lounge. There is a High-Limit Salon with it's own outside terrace. There is a poker room to play Texas Hold Em' as well as tournament play. Also, there is football fun with comps and prizes on Thursdays, Sundays and Mondays. Don't forget to checkout the iMagine Rewards Club for their comps and cash back.
Although there are no major theatrical musical shows the musical entertainment at the M Resort is more than satisfying. For example, the Ravello Lounge has a constant turnover of small bands ranging from country western to rock. Other clubs maintain their sense of intimacy but still offer entertainment, by using solo musical performers who manage to keep the patrons interest.
Ravello Lounge
This high energy cabaret features live musical performances by top bands and DJ's. The conversational bar overlooks the casino floor and the uniquely designed Ravello stage captures the famous Las Vegas Strip as its backdrop.
M Pavilion
When you want an out-of-the-ordinary meeting or event experience, look no further than the M Pavilion. The newest addition to M Resort's 60,000 square feet of dynamic meeting space is the ideal venue for expositions, catered events, high-energy concerts, boxing matches and other large-scale events. The 25,000 square foot M Pavilion offers open, expansive, pillar-less spaces for optimum configurations with a capacity of 2,300. Their premiere facility offers seamless ground level entry from the M Resort ballrooms to provide an exceptional guest experience. Add in the M Resort's signature four star service and you'll be ensured that your meeting and event needs are met at every level. The M Pavilion, provides you with the flexibility to customize your special meeting, expo or other event all under one roof.
Hostile Grape
The Hostile Grape is the perfect destination to enjoy a glass of wine or your favorite cocktail drink and socialize with friends in a comfortable, hip atmosphere, where the conversation flows as freely as the wine. Choose from 160 wines by the glass in this contemporary cellar. The collection includes fine American, Italian and French wines as well as selections from Spain, South Africa, Germany and more. Experienced wine enthusiasts will revel in the selection of boutique wines and handcrafted cocktails, while novice connoisseurs may sample several wines in small pours using the Hostile Grape's innovative dispensing system. This system uses pre-paid tasting cards that allow guests to enjoy pours of one, three or five ounces.
Their 23,000 square foot world-class spa is sure to provide you with a relaxing and revitalizing experience unlike any other. Their expert hair and body technicians will use the highest-quality products and latest techniques to transport you to a tranquil state of mind.
Their spa offers 16 treatment rooms, sauna, steam and Jacuzzi wet areas, full service salon and barbershop, luxury locker rooms and state-of-the-art fitness center.
32 Degrees Draft Bar
The coldest bear on tap. 96 different beers on tap. Classic lagers to unique ales and stouts.
M Bar
Allow one of their premier mixologists to create a custom cocktail or suggest a wine by the glass in their stylish-chic signature lounge that features contemporary music, videos and live entertainment.
Villaggio Bar
Visit this bar on the outside piazza for hand-crafted cocktails, frozen drinks, beers, and unmatched views of the Las Vegas Strip.
M Resort offers a variety of dining options with some of the world's leading chefs at the helm. From their state-of-the-art Studio B Buffet, with live action cooking studio, to Anthony's for the finest steaks and seafood, M Resort's delectable dining options are sure to please everyone, from culinary experts to everyday diners.
Anthony's Prime Steak & Seafood
Introducing a signature steakhouse where the best aged steaks in the city and the freshest seafood are charcoal-grilled to your satisfaction. Every dish at Anthony's is prepared to order and represents quality, attention to detail and a lifetime of tradition that's been passed on in my family from generation to generation. The menu includes your favorites along with my personal selections.
Anthony's Gourmet Burgers & Brews
Anthony's Gourmet Burgers & Brews presents the finest varieties of burgers offering each with classic toppings and toppings with a twist like stout braised short ribs, micro greens and cranberry-blue moon orange mayonnaise. Delicious buns, homemade fries, and a hot fudge sundae will complete this grown-up burger bar experience.
Baby Cakes Artisan Bakery
Baby Cakes offers an extraordinary patisserie experience bringing European confections to life through an impressive assortment of freshly made pastries, cakes, cannolis and much more. Baby Cakes also offers a variety of coffees and splendid homemade gelatos and artisan breads, as well as specialty breads and cakes for any occasion. The delightful scent from these delicious creations will draw you into this comfortably designed patisserie.
Hash House A Go Go
The atmosphere is just as tasteful as the menu with country-style décor mixed with an urban flair. Favorite breakfast items include the sage-fried chicken bacon waffles, homemade biscuits and gravy, the fried chicken benedict (a Travel Channel "MAN VS FOOD" special) and the meatloaf hash.
Whether it's breakfast, lunch or dinner, make sure to stop by and enjoy this one-of-a-kind eating experience. As seen on national TV on Extra, The Martha Stewart Show, The Rachel Ray Show and Travel Channel!
Marinelli's Authentic Italian Dishes
Delicious dining is always on the menu at Marinelli's where you'll find a variety of dishes to enjoy. Each are prepared with simple, authentic ingredients served in an atmosphere of casual elegance with spectacular views and exceptional service.
Studio B
Studio B brings you a buffet experience unlike anywhere else by integrating a state-of-the-art restaurant with a live-action cooking studio. In the main dining room, chefs prepare delicious appetizers, entrees and out-of-this-world patisserie desserts. Guests may also enjoy beer and wine selections at no additional cost. With continually evolving flavors and entertainment, no day is ever the same at Studio B. You go there to eat, but you leave entertained.
Vig Deli
Adjacent to the race and sports book, guests can choose from an extensive menu that includes made-to-order hot dogs, barbeque, sandwiches, hand-tossed pizza, chili, soups and specialties such as corned beef, pastrami, brisket, meatballs and hand-made desserts. The menu is designed to let guests "order by the numbers" making Vig Deli a one-stop-shop for great food, great conversation, and hopefully a great game.
room suites and their featuresBack to Top
M Resort offers 390 rooms including resort rooms and suites in a variety of configurations to give you a choice of how you would like to spend your stay. Each room and suite was designed with your comfort in mind, incorporating an upscale, yet casual décor. Not to mention world-class personal service and amenities that include a daily newspaper. And if that weren't enough, the floor-to-ceiling windows offer an incredible view from every room.
Resort Room
Resort rooms are designed with a rich color palate and tasteful furnishings. The bed(s) feature a pillow top mattress and the finest linens. The executive desk is spacious, equipped with convenient outlets and high-speed internet access, as well as a comfortable executive chair. Each resort room offers a living space that includes high technology features such as a Bose Sound System, iPod Docking station* and 42" HD LCD flat screen television. The bathroom has a marble vanity with double sinks, vanity stool, in-laid mirror, television and separate tub and shower.
Executive Resort Room
Designed with the professional in mind, the additional space in an Executive Resort Bedroom offers ample room for free-thinking. The spacious desk, along with high-speed Internet access and a comfortable chair provide everything you'll need for a well-equipped workspace. The pillow top mattress and fine linens ensure a restful night's sleep.
Classic One Bedroom Suite
Guests will enjoy the separate powder room, executive office area and separate living space which is furnished with a comfortable sofa and chairs and features a 42" HD LCD flat screen television. A conversation bar and closet valet complete the suite experience.
Flat Suite
The attention to detail is evident from the etched glass sliding doors, to the mirrored closets and automated drapery. The living space, which includes a conversation bar, is perfect for entertaining. The Flat Suite provides one or two bedroom accommodations.
Loft Suite
Enjoy beautiful 270° views of the Las Vegas skyline that may also be enjoyed from the bedroom loft. The spacious two story accommodations include private entry and two separate living areas that feature exquisite architectural details such as a stone and glass staircase and etched sliding glass doors. It is equipped with multiple HD flat screen LCD televisions and wet bars. The bathroom includes a freestanding spa tub and separate steam shower. Two or three bedroom accommodations may be provided in a Loft Suite.
Copyright (C) 2013 Las Vegas Direct. All rights reserved