Wyndham Grand Resort
the hotel and its features
Located just minutes from the Las Vegas Strip and a half-mile from the Hard Rock Hotel, the Wyndham Grand Desert Resort offers sumptuous suites with a full kitchen and access to resort-style amenities. The Wyndham Grand Desert Resort is all about indulgence, from its luxurious rooms to the sparkling pools. Soak your cares away in one of the resort's pools or hot tubs. Enjoy suites that feature TV/DVD combos, elegant furniture, hairdryers, irons and ironing boards and fully equipped kitchens with a stove, microwave, refrigerator and coffee maker.
While staying at the Wyndham Grand Desert Resort you can participate in a variety of fun events coordinated through the resort's activities center or catch the shuttle van to the Las Vegas Strip. A full-service concierge is available 8 a.m. to 10 p.m. to help make your Vegas trip a success.
The corporation that owns this resort refers to it as their Flagship Hotel. Which means they point to it saying, "It is the best we have." The Wyndham Grand Desert Resort deserves their sense of pride and satisfaction.
Traditional hotels found on the Italian Riviera helped to inspire the architecture of the Wyndham Desert Hotel. This classical style hotel is made up of over 700 suites. You get the feeling these suites were designed for the very wealthy, or at least for the Las Vegas high roller. They are traditional, pleasing to the eye, and convey a sense of luxury. Having a suite over a standard hotel room offers many advantages. These range from privacy, a sense of roominess, and to not having to work by a messy bed. Also, you get the convenience of your own kitchen.
There is no casino in the hotel. The only restaurant on the site is the Deli Café. Its name says it all. Keep in mind that you are less than a mile from the glamorous Las Vegas Strip with its world class casinos and restaurants. You will find a well equipped fitness center, swimming pools, hot tubs, whirlpools, sauna, massage room, family entertainment room, a 24 hour front desk and a concierge desk. There is a laundry in the hotel.
A children's pool accounts for one of the three swimming pools at the Wyndham. Also, the gaming room can provide good family entertainment. From time to time they organize outings and group activities. Free parking is available on site.
Insider Tip: If you grow tired eating out all the time, stop by one of the nearby markets and then make use of your fully equipped kitchen.
Location: Off the Strip, Las Vegas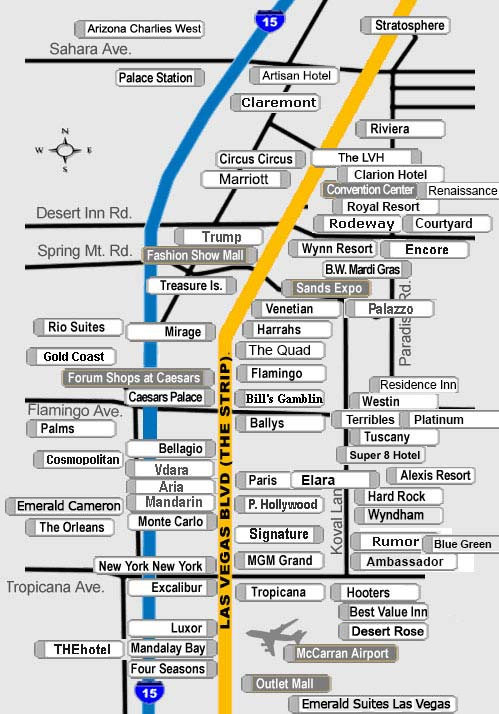 The Pool at Wyndham Grand Desert Resort
When you want to cool off in the pool or work on your tan, you'll love the Wyndham Resort's outdoor pool, which includes a lap pool, children's pool, whirlpool, and hot tub.
The Wyndham Resort has a game room that offers lots of fun and excitement for children of all ages! The hotel also has children's activity program. And when you want to enjoy a drink and relax, the hotel lounge will be a welcomed site.
Aside from the very gracious living quarters this hotel provides, much of what you do by way of entertainment happens when you step outside the hotel's front door. You are less than a mile away from world class shows, restaurants, casinos and shopping. Shuttle service is available to the Las Vegas Strip. Close by you can find everything from a hair dresser to a grocery store.
Fitness, Beauty, & Outdoor Fun When you want to cool off in the pool or work on your tan, you'll love the Wyndham Resort's outdoor pool, which includes a lap pool, children's pool, whirlpool, and hot tub. If staying in shape is important to you, the hotel has a fully equipped fitness center. And if you want to enjoy a massage, you needn't leave the Wyndham Resort. The hotel also has a sauna and tanning beds. Also, don't forget that you're in Vegas – within short walking and driving distance, you will find every activity you desire.
Because of the unique location of Las Vegas there is much outdoor activity close-by; hiking and horseback riding at Red Rock, a golf course less than a mile away, skiing, boating and fishing. The concierge can make necessary arrangements.
Activities Center
The Wyndham Grand Desert Activities Center is a magnet for kids: DVDs, air hockey, pool tables, Xbox, Wii and fun tournaments.
room suites and their featuresBack to Top
Fully equipped kitchens come with the suites. This includes a coffee maker, microwave and dishwasher. Additionally, all suites have a clothes washer and dryer. All of the units have stereo sets with cd players along with televisions. Fee based wifi is available. A number of the suites have fire-places. The baths are well equipped and have hair dryers. The suites range in size from 1 Bedroom which is about 600 square feet, to 3 Bedrooms which is approximately 1000 square feet and sleeps up to 8 guests. The furnishings are solid, traditional, yet they convey a sense of elegance. These sumptuous suites will remind you of a royal era that is gone, but not forgotten.
Guest Rooms
One Bedroom Suite
This suite has a king size bed, one bath and a sleep sofa in the living room. It is useful for couples with small children. There is a nice feeling of roominess in the suite.
Two Bedroom Suite
In this unit you will find a king size bed in one bedroom, and in the second bedroom there are 2 full size beds. Additionally, there is a sleep sofa in the living room. The suite has 2 baths.
Copyright (C) 2013 Las Vegas Direct. All rights reserved