The Top 10 Best Hotels in Vegas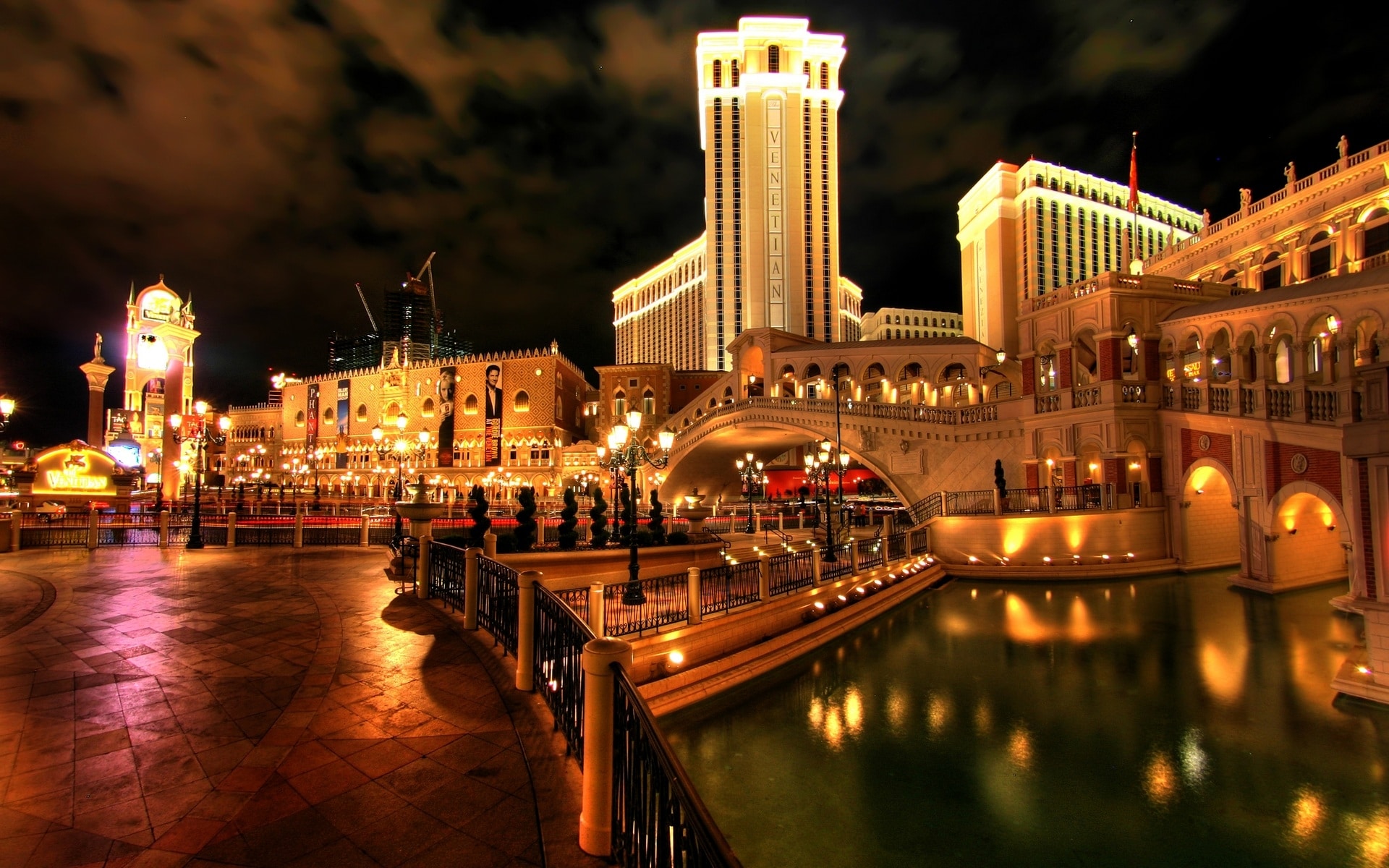 Las Vegas has hundreds of hotels, but only a handful of them really stand out. The hotels presented here make up our top ten list. In selecting the hotels for the list, we considered the opinions of other critics, reporters, travel writers and read through hundreds of both kindly and unkindly hotel reviews by members of the public. To all of this we added our own experiences and evaluations. After a lot of discussion and arguing, here is our Las Vegas hotel Top 10 hotel list…
1 The Venetian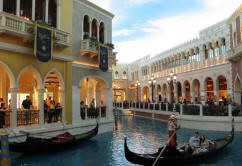 Venetian
Click Here for Guaranteed Lowest Vegas Hotel Rates! 
The Venetian is a stunning hotel with an elegant Italian ambiance…
If there was one word that would account for this hotel being on our Top 10 Best Hotels list it would be "stunning" The entire hotel has an elegant Italian ambiance as would be found in the city of Venice.
A massive painted ceiling, similar to the ones found in Italian chapels, takes your breath away as you walk into the lobby. "Stunning" goes on from there to include the entire hotel and resort.
Imagine half a million square feet of stores and restaurants built around historic style streets and Venice like canals. And of course there are gondola rides to enjoy the canals and their surroundings. In fact, there are over 70 dining places and shops to visit.
The stores, some just off the Grand Canal while others are found by walking through the hotel's St. Marks Square carry both a high and a low end assortment of merchandise. Everything from jewelry to t-shirts can be found. There is a wonderful selection of Italian hand blown glass. Street musicians and jugglers are there to entertain as you casually stroll down a picturesque street that looks exactly like it belongs in Venice.
Restaurants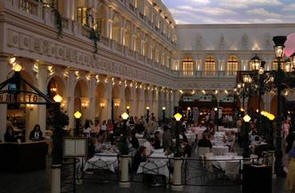 Dining at the Venetian is in keeping with its old world charm. Diners can enjoy the feel of being outdoors (with the comfort of being indoors) in St. Marks Square plaza complete with a painted skyline. There are 10 high end restaurants with an average price per meal between $30 to $50. The exception being Aqua Knox that serves seafood is priced over $50. The menus of these restaurants vary from Italian, French, Asian and contemporary American.
For more casual dining there are 11 other restaurants with menus that include everything from spa healthy, pizza, Mexican, Italian, Asian and global. The average menu price per person is below $30.
Night Life and Entertainment
The nightclub scene parts company from the traditional Venice like atmosphere and takes on a chic modern life of its own. TAO is a high energy 10,000 sq ft club featuring DJ's. TAO beach is a very popular pool party scene. TAO Lounge is an excellent gathering spot. V Bar has won awards as the best hotel bar in Las Vegas.
When it comes to entertainment the Venetian is right up there with the best in Las Vegas. Their list includes The Blue Man Group, Jersey Boys, and Phantom. Madame Tussauds features lifelike wax creations of celebrities.
After all the partying you can de-stress at Canyon Ranch Spa Club with 69,000 square feet of rejuvenation.
Rooms
The standard Venetian King Suite (all the hotel rooms are suites) is 650 square feet, which is twice the size of an average Las Vegas hotel room. Guests are treated to a 130-square-foot marble bath with two sinks, marble-surround tub, and separate marble shower. The sunken living room has a dining table with chairs, a 27-inch television and a refreshment center. Full-size sofa sleepers in the living room can be requested, subject to availability at Check-In to accommodate extra guests.Venezia Tower and Palazzo Hotel
Venezia Tower and Palazzo Hotel
The Venezia Tower is a newer addition to the Venetian and offers a quieter experience with private pool gardens and award winning restaurants. Palazzo is a separate newer hotel with 3,000 suites connected to Venetian and offers a similar experience with cathedral ceiling and world-class dining. If you have already stayed at Venetian, you may want to explore these hotel options too for a different more understated luxury hotel experience.
Venetian Hotel Details and Photos
2 Bellagio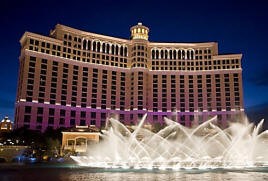 Bellagio
Click Here for Guaranteed Lowest Vegas Hotel Rates! 
The Bellagio was built with beauty and luxury in mind…
We cannot get the vision of the Bellagio's 1,200 fountains dancing and spraying water to music out of our mind. But this is not the only reason it is on just about everybody's Top Ten List. The hotel was built with beauty and luxury in mind. The smallest guest rooms are over 500 square feet in size. For those so inclined (owners of big fat wallets) 6,500 square foot villas complete with 24 hour butler service are available. Everything is done with an old world elegance. You can easily see why the Bellagio is on the list.
A first class spa and salon is available for the guests. Along with the typical spa facilities there is a top notch workout room. The Bellagio also features a few ultra sophisticated stores.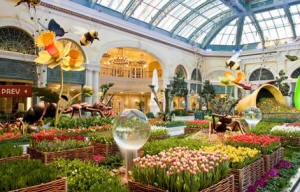 The Bellagio is unique in that it has a Gallery of Fine Arts the equal of many museums.
For those who love nature more than pictures hanging on walls, the hotel has a magnificent Botanical Garden along with acres of Mediterranean type landscaping.
Nightlife and Entertainment
Cirque du Soleil's "O" features world-class acrobats, synchronized swimmers, divers and characters who perform in, on, and above water to create a breathtaking experience. It plays twice each night. In addition, music and dancing can be enjoyed nightly at the Fontana Bar. Other bars and clubs are – The Bank (sophisticated), Caramel, Petrosian Bar (sophisticated), Pool Bar and the Baccarat Bar where a piano player plays while you play baccarat. Needless to say, the Casino at the Bellagio is a big part of its nightlife.
Restaurants
The Bellagio has very interesting restaurant choices. They have an Epicurean Epicenter where chefs and wine experts give demonstrations and may actually cook you a special meal.
Fine dining is offered in any one of five restaurants. Jasmine, which serves authentic Chinese dishes and has a spectacular view of the lake, Le Cirque for French cuisine, Michael Mina's famous namesake restaurant with its continental menu, the award winning Picasso Restaurant, and the Prime Steakhouse.
For more casual dining there is The Buffet (our pick for one of the best buffets in Vegas), Cafe Bellagio, and the Pool Cafe. Under the category of contemporary dining there are some unique restaurants; Circo, Fix, Olive, and Noodles Sensi. Each has their own style.
Rooms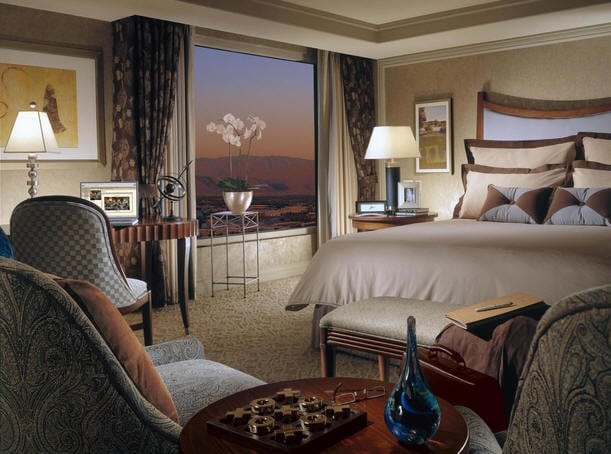 Bellagio rooms have warm and inviting décor with 626-square-feet Spa Tower guest rooms, complete with panoramic views of Las Vegas.  Combining contemporary wood furnishings and artwork with traditional fabrics and accessories, a resplendent modern look is visible. Guests staying enjoy double sink vanities, a marble shower with seamless glass enclosure, luxurious duvets, a flat screen TV, and a fully stocked mini bar.
Bellagio Hotel Details and Photos
3Â Wynn Las Vegas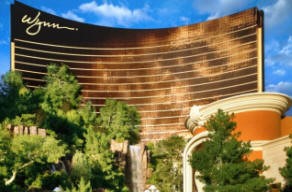 Wynn Las Vegas
Click Here for Guaranteed Lowest Vegas Hotel Rates! 
Architectural beauty that lives up to the Wynn name…
The only vote against having Wynn on the Top Ten List was from a travel writer who claimed to be annoyed by the hotel because it was just "to damn guest friendly". In a strange way he might be right. The hotel was built by Steve Wynn to be the best Las Vegas could offer. Many people believe he succeeded.
As you approach Wynn its golden facade gives you a hint of the architectural beauty within. Lagoons, water falls, rooms with floor to ceiling windows, magnificently appointed restaurants, a store that sell Ferraris, an 18 hole golf course, a 3 acre lake, and the list goes on and on. Individual guest rooms live up to the overall elegant features of the hotel.
Shopping at Wynn is an adventure. It almost rivals New York City for high end stores. Here is just a partial list; Ferrari and Maserati, Dior, Graff, Louis Vuitton, Oscar de la Renta, San Giorgio Shoes for Men, Vertu and Cartier.
Primping, beautifying and the working out of guests are all accomplished in top salon and spa facilities. An 18 hole golf course, which is a part of Wynn has been the home to PGA tours. The casino rivals the rest of the hotel.
Nightlife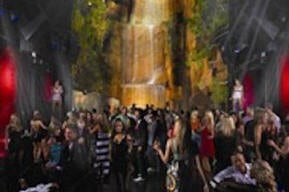 Wynn has a very thriving nightlife. Club Tryst is one of the reasons. It is big, beautiful, and has a dance floor that extends out to a 90 foot waterfall. Blush, which is another nightclub, has a ceiling of 300 lanterns melding to music giving it a wonderful energized feeling.
The Encore Beach Club at Wynn offers all sorts of options from just sitting, gaming, to enjoying a cabana. Wynn has an upscale club called Surrender. On weekends it has live entertainment. XS is the name of a poolside club that enables you to sit indoors or outside while enjoying its nightlife. There are also two 24 hour resort bars.
A not to be missed feature of nightlife at Wynn is the show Le Reve. It almost defies description with its acrobatics and beautifully choreographed dream sequences.
Dining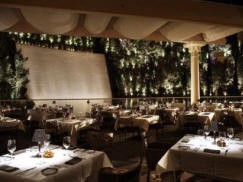 You will find over 20 unique and varied restaurants at the Wynn. They include fine dining such as Bartolota(Italian), Botero(steak & chops), SW Steakhouse, and Winglei(Asian). Along with these and other fine dining restaurants are ones that serve typical American Fare such as Pizza Place and Zooza Crackers(New(a New York style deli) Other restaurants specialize in contemporary cuisine Their all you can eat Buffet is not to be missed. It might very well be the best in all of Las Vegas.
Rooms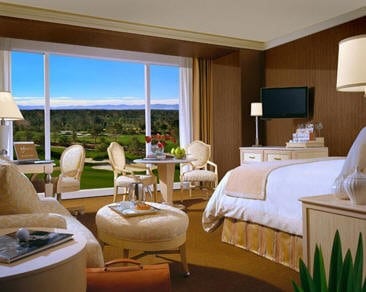 Wynn Suites are draped in natural light from floor-to-ceiling windows and accented by an array of contemporary furnishings and fabrics. The basic resort resort rooms is 640 square-feet. Additional, advanced technologies including remotely controlled lighting, drapery and room service messaging for guest convenience.
The beds at Wynn have become famous – so famous that they are sold in the hotel store. They are called the Wynn Dream Beds. Each bedding set is comprised of Egyptian Cotton 310-thread count linens and guests rave about them being the most comfortable bed they have ever slept on.
Wynn Las Vegas Hotel Details and Photos
4Â ARIAÂ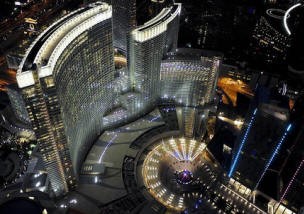 ARIA
Click Here for Guaranteed Lowest Vegas Hotel Rates! 
Architectural excellence with a sense of light and openness…
A guest of Aria wrote in and said, "I hate when my room is smarter than I am." He was referring to all the advanced technology that opens and closes drapes, turns lights on and off, creates music to your exact preference, controls the temperature, and does a few other things that nobody has quite figured out.
The real beauty of Aria is its 56 stories of architectural excellence. This includes a sense of light and openness enhanced by floor to ceiling guest room windows with magnificent views. Even the 3 story lobby and the casino have been built with this same concept of natural light and openness.
Dining
You have the choice of 16 different restaurants at the Aria. Here is a partial list of those under the category of fine dining; Sage (refined American food), Sirio Restorante (Italian food), American Fish (river and great lakes), Jean George Steak House (traditional American food) Julian Serrano (tapas) and Blossom (Chinese food).
Under the heading of casual dining a few of your choices are; Lemon Grass (Thai food), Skybox (typical American food while watching TV sports), Breeze Cafe (healthy food indoors or out) and Jean Philippe Patisserie (pastries and deserts). In addition, Aria has one of the best all you can eat Buffets. They even have one of the only Indian tandoor ovens in Las Vegas which adds to the tasty mix of buffet choices.
Nightlife & Entertainment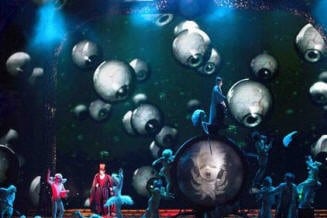 The nightclubs at Aria are as revolutionary as the hotel. Haze, their best known club has a sound and light system that will challenge your sense of reality. The Gold Boutique Night Club contains the spirit of Rock 'N' Roll along with the soul of Elvis. Visit the Deuce Lounge for high stakes gambling, drinking and lots of energy.
Other bars and lounges that are a part of Aria's night life are; Bar Moderno (live entertainment), View Bar (it actually has a view), City Bar, Liquid (outdoor pool side lounge) and the Pool Bar.
Greatly adding to the nightlife at Aria is the show Zarkana by Cirque du Soleil. Zarkana is a stunning modern day spectacular production. Inspiring music and stunning costumes draw you in as some of the best jugglers, acrobatic artists, gymnasts, and
even a sand artist set the stage for an evening of "oohs and ahhhs" that will leave you wanting more and wondering how they did it all.
Shopping
When it comes to shopping, the most important thing that can be said is that you are right next door to Crystals at CityCenter. There you will find one of the greatest collections of high-end stores in the world.
You will also find some excellent shops at the hotel too, such as Terrene fashion and Aria Mens' Shop. Radiance carries jewelry. Papillon features fashion accessories. Viva ELVIS is filled with Elvis memorabilia. If you want to literally take your room home with you, Aria At Home will you purchase their hotel beds and other items.
Spa and Salon
Hair, make-up, health, beauty, it is all there for the asking at the well equipped Aria Spa and Salon.
Rooms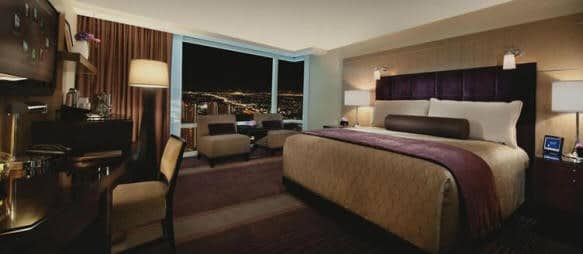 Rooms at Aria Average 520 square feet with custom furnishings and unparalleled amenities, such as floor to ceiling windows with amazing views, their custom ARIA mattress with triple-sheeted, 300 thread count linens, a 42″ LCD HD television that allows you to connect your laptop and other video devices, integrated one-touch control of room features, including dimmable lighting, room temperature, television/video systems, music, wake-up calls, draperies, and requests for services through a single, remote control, high-speed wireless and wired Internet connections, shower with bench adjacent to a soaking tub, granite dual sink vanity, and a private water closet.
5 MGM Grand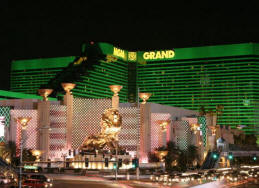 MGM Grand
Click Here for Guaranteed Lowest Vegas Hotel Rates! 
The MGM Grand hotel is like a city within a city…
How many times have you watched the MGM lion roar across the movie screen and you knew there would soon be images of beauty and color appearing before your eyes? Here in Las Vegas, a large bronze lion stands in front of the MGM Grand Hotel, his silent roar inviting you to the beauty and grandeur within.
Over five thousand rooms located in 4 towers, world class restaurants, famous nightclubs, theaters for entertainment, a water park, dozens of shops, football fields of casino space and a lion zoo give MGM the title of a city within a city.
Along with beautiful grounds and multiple pools there is a Water Park. One of its main features is a 1,000 foot long river aptly named the Lazy River. Guests are also treated to the Lion Zoo, which is a glass enclosed structure from which you can watch the lions play, eat, sleep and otherwise go about their business.
The casino area is larger than 3 football fields, so finding a place at a table should not be difficult even on their busiest nights. MGM has a multitude of stores located in the Studio Walk. They range from low-end (tourist trinkets) to high-end fine jewelry. Star Lane Shops and Harley Davidson are just two of the many shops to be found.
Nightlife and Entertainment
Nightlife at MGM Grand has many aspects to capture your interest. There is Studio 54 with its music and reputation, Tabu ultra lounge with its ultra modern chic, the Wet Republic with its multiple pools and lounge dancing, Rouge with its red leather Ferrari atmosphere and the West Wing Bar with its friendly relaxed ambience, Centrifuge and Zuri bar. On Friday and Saturday nights, Mexican restaurant Diego turns up the heat with Vida, a high energy Latin dance party.
MGMÂ is the home of the Crazy Horse Theater which is an exact replica of the one in Paris. Shows and performances can almost always be seen. There is even a special stage for Cirque Du Soleil that features KA, which combines acrobatic performances, martial arts, puppetry, multimedia, and pyrotechnics. Magician David Copperfield mystifies audiences in his own venue and is worth seeing. The hotel has a smaller Hollywood Theater and various lounges with shows. In addition, top name headliner artists and concerts plus world championship boxing and MMA matches are scheduled on a regular basis.
Restaurants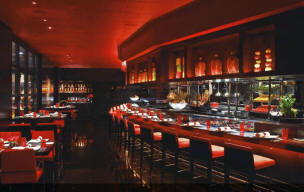 Restaurants include award winning steakhouse Craftsteak, Pearl – a great Chinese restaurant, Fiamma – authentic Italian, celebrity chef Emeril Lagasse's signature fishhouse restaurant – Emeril's, Seablue (seafood) and Nob Hill Tavern (American classics with a twist), both by world-renowned chef Michael Mina, JoĂ«l Robuchon's fine dining restaurant, and another place for Tapas by him called L'Atelier de JoĂ«l Robuchon (JoĂ«l was named France's Chef of the Century). Casual dining includes an excellent all-you-can-eat Buffet, as well as dozens of other eating places and a food court for that quick snack.
Rooms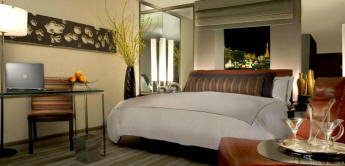 Rooms at MGM range from their "basic" deluxe suite, to having your very on private villa with butlers included at their secluded mansion complex. Deluxe rooms are 446 square feet and feature amenities such as pillow top mattresses, spacious bathrooms with custom black and white marble, thick cotton towels, roomy closets, safes, and wireless high-speed Internet access.
MGM also offers what it calls Signature Suites, which are actually three exclusive all-suite towers providing guests with extra luxury and personal service located just steps away from MGM Grand. These suites are all within a non-gaming and non-smoking environment.
The Signature Suites include a private entrance and continues inside with pillow-top beds, lavish bathrooms featuring Jacuzzi tubs, upscale linens, kitchenette, and gourmet in-suite dining around the clock. Available in most suites are private balconies overlooking the Las Vegas Strip and mountains.
For a more urban-chic experience, Skylofts, located on the top two floors of MGM Grand, offers modern two-story loft designs and a personal 24-hour Butler. Lofts feature soaring floor-to-ceiling windows, providing dramatic views of the city.
MGM Grand Hotel Details and Photos
6 Caesars Palace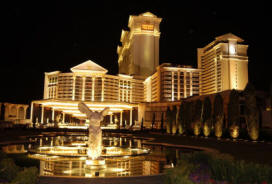 Caesars Palace
Click Here for Guaranteed Lowest Vegas Hotel Rates! 
You will feel like you were transported back to ancient Rome…
When first arriving at Caesars Palace you may think that you're on a gigantic Hollywood stage or have been transported back to ancient Rome. In either case, the view is spectacular. Even the people who serve you are dressed in authentic Roman togas.
There are Roman style furnishings throughout the hotel such as elaborate scenic frescoes, stone pillars, gold, statues and crystal. The guest rooms are spacious and luxurious, as befitting a palace belonging to Caesar.
The hotel has been around for a while. But it has reinvented and rebuilt itself many times over. There is no doubt it belongs on our Top 10 List.
Dining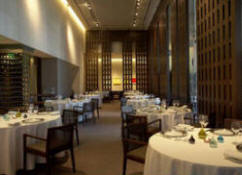 Restaurants at Caesars Palace go from the finest of dining to the simplest of casual. Just off the main lobby is Guy Savoy's famous French restaurant. Wolfgang Puck's Spago and Bradley Ogden's American Gourmet are two other restaurants of note. For those who enjoy Southwest food, there is Mesa Grill (celebrity chef Bobby Flay's first restaurant).  Hearty eaters will certainly enjoy the decadent all you can Bacchanal Buffet with over 500 items available from all around the world (they spent $17M just to build it). There is also a patisserie bistro for late night deserts. Many more eating places, including those for casual dining, can be found among the 160 Forum Shops.
Nightlife & Entertainment
Nightlife at Caesars centers around the clubs and casino. Foremost among the clubs is "Pure". This is a two story award winning nightclub with VIP rooms and a dance floor complete with waterfalls. The Shadow Bar which is also part of the hip night scene, features provocative shadow entertainment on one of their walls. Cleopatra's Barge is an enormous floating lounge. The Galleria Bar has live entertainment. Another nightclub found at Caesars is the Sea Horse Bar. It is a frothy mixture of interesting design and whimsy. If you are into specially made margaritas or good beer try the club called Numb Bar and Frozen Cocktails.
The casino at Caesars is over 129,000 square feet. It is well known for the legendary high rollers that have played there. Looking carefully you will see a small hallway leading off the casino that has some of the highest end shopping stores in the world.
Another source of nightlife is the fabulous entertainment that often appears at the hotel. The theater at which they perform is known as the Coliseum. Celine Dion, Elton John and Rod Stewart are just a partial list of celebrities who have played there.
Salon Spa and Daytime Fun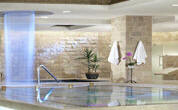 For those who wish to pamper themselves in the Roman tradition or any other tradition, there is a 50,000 sq ft magnificent Salon and Spa facility called QUA staffed by experts. Caesars has set aside 5 acres and created the Garden of the Gods. Located within it are 8 pools, beautiful landscaping, stone columns, hot tubs and spas. It is well used and appreciated by the hotel guests.
Shopping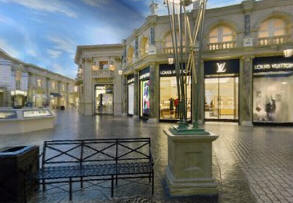 Caesars has more shops than any other hotel in Las Vegas. They have actually replicated the ancient streets of Rome for these stores. Along with these streets are fountains and works of sculpture. There is an expansively painted sky going through a 24 hour day that changes from morning sunrise to evening dusk. The area with the stores is called the Forum Shops. Aside from the Forum there are other sections set aside for shopping. You will find over 160 places of business. Among these are both formal and casual restaurants and both high and low-end shops. Here is a sampling of just some of the stores; Bernini Couture, Harry Winston, Kiehl's, Kate Spade, Pucci, Jucy, Celine, Guess, Banana Republic, Weitzman, Versace, Ann Taylor, Boss and Diesel.
Rooms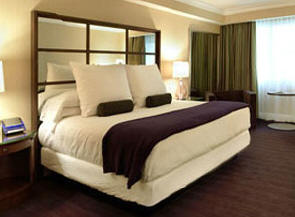 Caesars Palace rooms are cool and stylishly modern. The basic Deluxe and Forum Rooms surround you with modern convenience and luxury, with two LCD TVs, professional desk space with leather executive chair, and an oversized walk-in shower with dual rain bath showerheads. Their newest, most luxurious rooms can be found in the Palace and Augustus Towers complete with Caesars-style marble bathrooms that indulges you with brass fixtures, dual sinks, and an oversized spa tub.
Nobu at Caesars Palace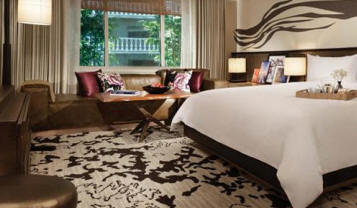 Nobu is actually located in Caesars Palace.  Chef Nobu Matsuhisa famouse partners, actor Robert De Niro and Hollywood producer Meir Teper, have opened the world's first Nobu Hotel inside Caesars Palace in Las Vegas.
You will find 181 beautiful guestrooms and suites with accessed from their own a stunning lobby. The stylish interior of the rooms incorporates a mix of traditional and contemporary icons from Japanese culture. A serene atmosphere is created with lantern-like lamps, decorative cherry blossoms and beds laden with 330-thread-count satin Italian sheets. The bathrooms contain elegant stone tiling with oversized walk-in showers and basin-style sinks. You can also get delivered food from Nobu's famous restuarant located in the hotel with priority seating for dining too.
Caesars Palace Details and Photos  | Nobu Hotel Details and Pictures
7 The Cosmopolitan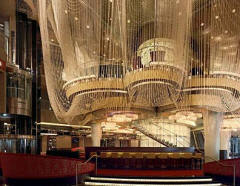 Cosmopolitan
Click Here for Guaranteed Lowest Vegas Hotel Rates! 
 
The Cosmopolitan is a beautiful luxurious hotel that deserves to be on any top 10 list…
A lot of attention has been paid to details, including the guest rooms with large windows and sliding glass doors leading to terraces with wonderful views. There is even a lounge designed to make you think that you're inside a gigantic chandelier.
Fashion Shops, 3 pools, 5 lounges, 13 restaurants, an incredible nightclub, a high-tech casino and 24 hour room service, it is all here at The Cosmopolitan.
Shopping
The Cosmopolitan was not built to be a shopping mall, but is does have a small number of interesting shops. These include Molly Brown's Swimwear, DNA2050-jeans, Skins 6|2 Cosmetics, and Beckley-fashions. Other stores are Monogram-gifts, Droog-very unique household items, Stitched-men's clothes, Allsaints Spitalfields-fashion, Retrospecs-eyewear, CRSVR Sneaker Boutique, and Vitals-magazines & cigarettes.
Dining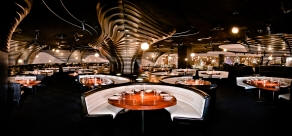 You will find a wonderful global mix of foods and restaurants ranging from casual to formal. Always check if reservations are needed. Here is a list of the restaurants; Blue Ribbon Sushi Bar and Grill, China Poblano-Chinese and Mexican, Comme CA-French brasserie, D.O.C.G.-wine and pizza, Estiatorio Milos-Greek, Holsteins-burgers and more, Jaleo-tapas, Overlook Grill-crispy fish tacos, Scarpetta-Italian, STK-steakhouse, The Henry-traditional, Va Bene Caffe-coffee bar, Wicked Spoon-buffet.
Daytime at the Cosmopolitan
Aside from the usual spa and salon facilities, the hotel features 3 separate and distinct swimming pools. The first being an energetically oriented social type pool. The second offering a quiet type retreat, and the third (Marquee Dayclub) caters to adults 21 and over. The Marquee Dayclub pool is a Las Vegas Strip pool that features three-story Bungalow Lofts, bottle service and a party deck on top. Guests can party all night at the Marquee nightclub and rest up at this cool pool club.
Nightlife
Nightlife at the Cosmopolitan revolves around its restaurants, lounges and famous nightclub. There are 5 lounges. The Chandelier is a 3-story club designed to create the feeling that you are seated in a chandelier. Vesper is a sophisticated, chic club that you would expect in this hotel. Book and Stage are sports books with entertainment. Bond is a mixture of LED art and live entertainment. Queue Bar is a place to gamble and drink.
The Marquee Night Club although not listed as the seventh wonder of the world. certainly deserves honorable mention. Its 50 foot ceilings and million dollar sound stage must be seen, heard and felt to be really appreciated.
Rooms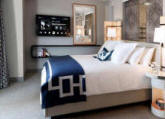 The rooms at Cosmopolitan are a big part of the chic hotel experience. Their basic terrace studio is over 600 sq ft and offers a sliding door leading out to a terrace. In addition, guest rooms have modern kitchenettes with a refrigerator and microwave, oversized luxurious bathrooms, and even washer/dryers. The wall treatments and the furniture are all high-end decorator. Modern touches include complete remote control access in one place for both lighting and temperature.
Cosmopolitan Las Vegas Hotel Details and Photos
8 The Mirage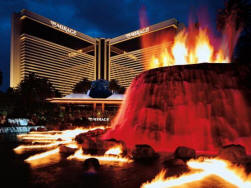 The Mirage
Click Here for Guaranteed Lowest Vegas Hotel Rates! 
The Mirage is a vision that came to life on the Nevada desert…
True to its name, The Mirage is a vision that came to life on the Nevada desert. Its beauty is a successful mixture of the Island of Bali and what a first class interior decorator thinks a tropical paradise should look like.
Water falls, volcanoes, wild cats, dolphins, sharks, tropical landscaping, gigantic salt water fish tanks, spas, salons, shopping, secret gardens, casinos, pools, lounges, nightclubs, restaurants and entertainment all add up to a wonderful exotic hotel experience.
Dining

The Mirage has its share of fine dining establishments; Japonais-Japanese Grill that also serves a pre-show dinner, Stack-surf and turf with flair, Fin-contemporary Chinese, Kokomo's-surf and turf plus, Onda Ristorante-classic rustic Italian, Samba Brazilian Steakhouse-Brazilian barbecue offering unlimited portions.
Here are the restaurants with a casual atmosphere but serious flavors; BLT Burger-hamburgers, BB King Blues Club-live music and southern fried comfort food, California Pizza Kitchen-baked pizza, Carnegie Delicatessen-NY Deli, Paradise Cafe-traditional menu, Blizz-frozen yogurt and desserts, Dolphin Snack Bar-Hot Dogs and drinks, The Roasted Bean-coffee bistro, Cravings-All you can eat savory buffet.
Shopping
The Mirage is located in close proximity to some of the finest stores in the world. These are located in Crystals and the neighboring hotels. There is an interesting mix of shops at The Mirage that includes: Paradiso and Misura both specialize in woman's fashions. Mirage At Home sells their guest room furnishings to the public. Dolphins Shop has items for children. Impulse sells cigars, cigarettes, and wines. Optica specializes in sunglasses. Spa Retail sells lotions and more lotions. The Sugar Factory is great for lollipops and candy. King Ink is a tattoo parlor. The Watch Boutique sells jewelry as well as watches. The Art of Music, the Love Boutique and the Terry Fator Shop sell entertainment souvenirs and memorabilia.
Daytime at The Mirage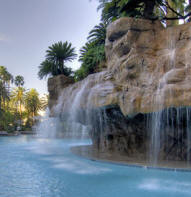 Much of what guests do during the day centers around the spa, salon and pools. Spas and salons are often only as good as their personnel. Fortunately, The Mirage has award winning people staffing these facilities. There are three pools at this hotel. The Mirage Pool is a tropically landscaped, easily accessed fun pool to use. The other pool known as Bare is an adult alternative (topless allowed) in a secluded area that in the evening hours becomes a nightclub. There is also a shallow children's pool. Children may not be left alone at this pool.
Nightlife and Entertainment at The Mirage
The main night club at The Mirage is Jet. It has state of the art sound, light, laser and cryogenic effects. The club has three separate rooms, with DJs playing different styles of music in each one. Another well know club is the Revolution Lounge. It is Beatles inspired, contemporary, and a little on the psychedelic side. Revolution is a great place to spend an evening.
B.B. Kings Blues Club has its own lounge with live music playing down and dirty blues. The Rhumbar Lounge, featuring frozen daiquiris and well made cocktails is part of the Mirage nightlife. The Japonais Lounge serves drinks in a very aesthetically pleasing environment. Onda Lounge is the place to be when you need a wine and cheese fix. Kokomos gives you the opportunity to drink in a tropical rainforest. This High-Limit Lounge is great for taking a break from the casino and having a drink or a snack. The lounge even has its own private buffet. The Sports Bar which overlooks the large high tech sportsbook, is a very accessible place to get a cocktail. If all else fails, put on or take off your bathing suit as the case may be, and get a drink at the poolside bar that services Bare – the adult alternative pool.
Entertainment is a major part of the nighttime scene at Mirage. Love, which is their feature show, is a combination of the timeless music of the Beatles and the performances of a 60 member Cirque du Soleil troop. The show is absolutely breathtaking and not to be missed. Another do not miss show is Terry Fator. He is one very funny ventriloquist, or maybe it's the dummy that's really funny. In either case you should see the show.
Rooms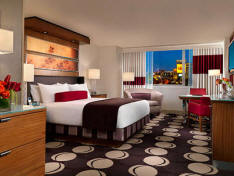 Mirage rooms feature feature simple lines with an ergonomic design to give it a high-touch feel, providing you with a comfortable space to make yourself at home. Warm woods lining each room are accentuated with a boldly modern color scheme and well appointed fabrics. Guests are treated with a superior sleep comfort, Sealy Posturepedic pillow-top beds, accompanied by 42″ LCD TVs, and iHome MP3 player docks to enjoy your own favorite music playlists. A cordless phone is standard for your convenience, along with many more amenities that are reflective of today's lifestyle. Breathtaking views of the tropical pool, majestic mountains or Las Vegas Strip are available.
Mirage Hotel Details and Photos
9 Mandalay Bay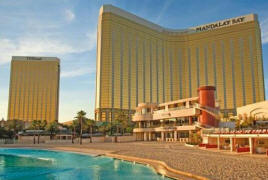 Mandalay Bay
Click Here for Guaranteed Lowest Vegas Hotel Rates! 
Mandalay Bay offers acres of beach, waves, music, dining, nightlife…
Sixty beautiful acres of beach, waves, music, dining, nightlife and winning the 4 diamond award ten years in a row put this hotel on our Top 10 List. There is an abundance of happy things to do at Mandalay Bay. They range from watching their gigantic 1.6 million gallon aquarium to playing in the wave generating swimming pool.
If shopping makes you happy then you are in for one very enjoyable time. If dining gives you pleasure, you're in for a treat (no pun intended). If nightlife and entertainment are you're interests, then you will have a great stay at Mandalay Bay.
There are actually two separate but physically connected hotels at Mandalay Bay. One is the standard Mandalay Bay hotel, and the other, a smaller boutique type more cosmopolitan hotel called Delano (formerly THEhotel). They share all the same great facilities. In fact there is even a third hotel, The Four Seasons operating the top floors in the standard hotel. It may sound complicated, but trust me it's all good.
The downside to all of this, and it is really not much of a downside, is that the hotel is not located in the heart of the Las Vegas Strip. It is about a 10 minute drive away, but they have a free tram that runs often between the hotel and Excalibur, which is on the Strip and will give you access to the Las Vegas monorail.
Dining
These are the fine dining, or signature restaurants at Mandalay Bay; Mix-French, Fleur-contemporary global, Aureole-American, China Grill-Asian, Shanghai Lilly-Cantonese, Red Square-Russian, Lupo-Italian, Rick Moonen's RM Seafood-contemporary seafood, Stripsteak-steakhouse, Border Grill-Mexican, House of Blues Foundation Room-steaks, Verandah-Italian.
Mandalay Bay also has its share of casual dining restaurants: Burger Bar-Hamburgers, House of Blues-Cajun BBQ, Red White & Blue-American, , Noodle Shop-Chinese, the Cafe-traditional, Mizuya-sushi, Hussongs Cantina-Mexican, Ri Ra Irish Pub-good pub food.
For quick eating or grabbing something on the run; Sports Book Grill-sandwiches, Raffels-traditional, Bayside Buffet-diverse all you can eat buffet, Orchid Lounge-pastries, Yogurt In-frozen yogurt, Starbucks-coffee.
Daytime Fun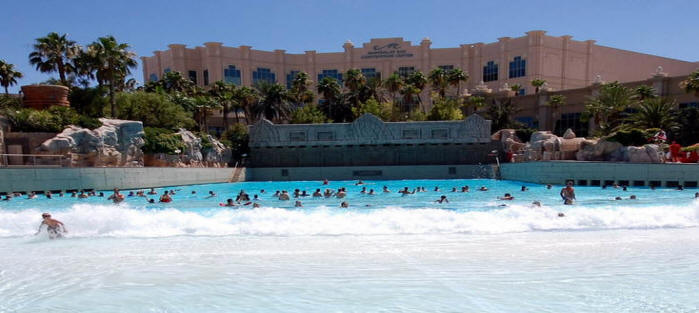 Mandalay Bay and its smaller boutique hotel, Delano, each have their own spa-salon facilities. For those who have the energy, there is a 3000 sq-ft fitness facility.
There are three swimming pools, each with their own personality. One of the pools caters to adults only, and has a private pavilion. Aside from the pools there is a sandy beach that has a wave making pool. If all this were not enough, there is a 3-4 foot deep pool plus the Lazy River Ride that seems to please almost everybody. Mandalay Bay has the best pool in Las Vegas.
A popular attraction at the hotel is Shark Reef, which is North America's only predator-based aquarium and exhibit. Visitors can immerse themselves with sharks and other sea creatures from the deep.
Nightlife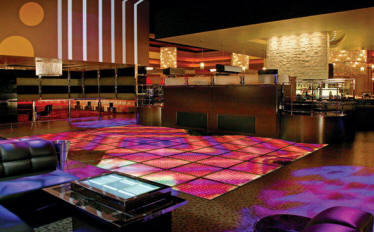 At eyecandy, located in the casino floor, you will find an amazing display of high-tech entertainment lighting, some of which you can even control from your table. It has everything you could ask for; music, drinks and dancing. Another hot spot is the Foundation Room ultra lounge that offers spectacular views above the 43rd floor.
Some of the other clubs and lounges are; Evening Call-frozen and standard cocktails, Mix Lounge-sophisticated music and drinks, THE Lounge-comfortable chairs and drinks, House of Blues-music, drinks, live entertainment, Fat Tuesday-daiquiris, Irish Pub-drinks, Minus 5 Lounge-low temperature with real ice and drinks.
Entertainment
You can always find something going on, such as headliner shows, UFC fights, concerts, and more at the Mandalay Bay Events Center. A popular on-going show is Michael Jackson the Immortal World Tour by Cirque du Soleil, which offers a blend of visuals, dance, music and fantasy that immerses audiences in the king of pop's personal creative world.
Shopping at Mandalay Bay
Mandalay Bay has an actual shopping mall on its property. The stores run from clothing and shoes, salon and beauty, jewelry to specialty shops. Included in the specialty shops are everything from eyewear to photography.
With the exception of Bejeweled, a store that sells Rolex watches and other jewelry, the shops at the hotel are more or less what you would find in most hotels.
Rooms

There are many room styles available with basic rooms starting at 550 sq ft and going up to 3,000 sq ft for a hospitality suite. Guests will enjoy floor to ceiling windows, his and hers lighted closets, pillow-top mattress, 42" High Definition Plasma TV, ipod compatible alarm clock radio, desk area with wireless and hi-speed internet access, mini-bar, in-room safe, and cordless phone with dual phone lines. Bathroom amenities include imported stone floors and surfaces with an LCD TV, separate glass enclosed shower and bathtub, twin vanities with make-up mirror and hair dryers.

Suites at The Four Seaons, located on floors 35 to 39 offer overstuffed chairs with ottoman,
42-inch plasma screen televisions with DVD player, and marble bathrooms with deep soaking tubs.
Guests choosing to stay at Delano will enjoy upscale and contemporary decor. The entry is cool, clean tile.  Rooms have a wet bar and 42″ plasma TVs. The elegantly-appointed bathroom features marble and granite, and a separate tub and shower.
Mandalay Bay Hotel Details and Photos  | Delano Details and Photos | Four Seaons Hotel Details and Photos
10Â Circus Circus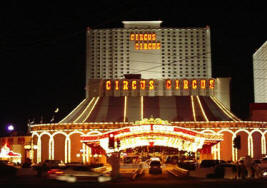 Circus Circus Las Vegas
Click Here for Guaranteed Lowest Vegas Hotel Rates! 
Almost everywhere you look there is something that will put a smile on your face…
Putting the Circus Circus on our Top 10 List caused more argument and debate than any other hotel we have listed. The reason being, it is certainly not the world's best hotel, unless you are a kid or a parent looking for family fun. Then it deserves to be on the Top 10 List
The hotel is definitely unique. It has a little something for everybody and is affordable. There are live circus act including acrobats, trapeze artists, jugglers and of course clowns. True to circus tradition there is a midway with games of skill for all ages. Almost everywhere you look there is something that will put a smile on your face.
The Adventure Dome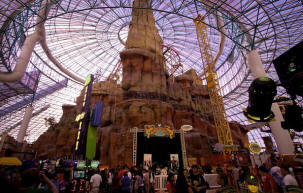 This is the largest structure of its kind in the United States. It houses all sorts of rides and attractions. Some of them, such as a roller coaster will scare the pants off you, and others like the SpongeBob Theater will make you and your little ones laugh.
The Adventure Dome has a mixture of thrill rides with well deserved names like Inverter, Slingshot, Canyon Blaster, Chaos and Rim Runner. There are entertaining shows for the small children, such as Dora and Diego's 4d Adventure. The Adventure Dome also has junior rides and family rides including a beautiful Carousel. Our insider tip is to buy an all day pass to the rides and save money, instead of purchasing individual tickets.
Entertainment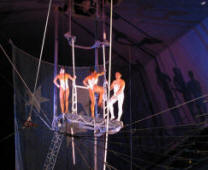 Much of the entertainment at Circus Circus comes from their beautifully costumed, star class aerialists from around the world. The Rock and Rita club has live musical performances. For those who enjoy karaoke, a special stage is all yours every Friday and Saturday night.
Since Las Vegas is the gambling capital of the world, the hotel casino is often the center of entertainment. At Circus Circus the casino is well equipped and offers free players club memberships. Club membership will get you benefits in dining and room upgrades.
Shopping
You will find a shopping area with a few stores of interest. The most notable include a designer fragrance shop, an old time photography studio, and a ticket booth called Tix4Tonight where you can buy Las Vegas hotel show tickets at bargain prices.
Dining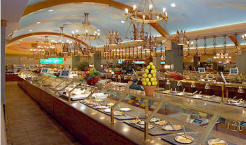 Kids can often eat free at the Circus Circus buffet with an adult purchase, but check with the hotel first. The large affordable buffet includes a salad bar, carving station, all-you-can-eat fried shrimp and desserts. The Rock and Rita bar serves great hamburgers. THE Steak House is actually an award winning restaurant with an excellent well deserved reputation. Other eating places are the Blue Iguana Mexican Express, Pizzeria, Westside Deli (open 24hrs), Barista-Bagels and more.
Recreational Vehicles
Circus Circus has parking facilities for RV's. In fact it is a KOA campground complete with pool, hot tub/sauna and pavilion.
Rooms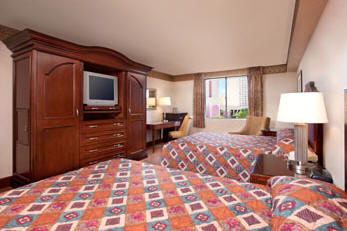 Rooms are located in several buildings. However, all the rooms are about the same. The Skyrise Tower is a 29-story tower that includes a casino and features the property's two pools. The West Tower is a 35-story, 1,000 room tower and includes the Hotel Lobby and Shopping Promenade. The Promenade centrally connects the Adventuredome Theme Park, Skyrise and Casino Towers. A third more budget option is to stay in their Manor Motor Lodge, which is a five three-story detached buildings with self-parking located a half-block from Circus Circus. You need to walk a bit, but the rooms are more economical. Rooms have new 27″ TVs, headboards, armoire, furniture, and free electronic in-room safe. Pay movies and wireless Internet access is also available. Rooms also include an alarm clock, iron/ironing board and hairdryer. Guests may choose two queen beds or one king bed.
Kids can usually stay free with an adult. Roll-a-Way and Cribs are available and are charged $15 extra each night