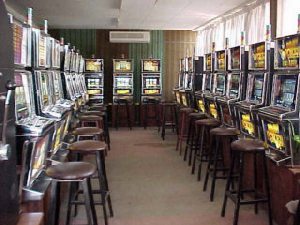 Rules and how to play Slots and Video Poker:
Slot machines
Slots are fun and easy to play. There are really no particular rules you need to be concerned with. The main object of the game is to hit a jackpot. Drop in a coin and pull the handle. The lights and ringing bells will let you know when you have hit the jackpot. If you have a question or are unsure of something, simply ask a slot attendant for assistance.
All slot machines display the payoffs, and those that work in a certain way, have instructions on them.
Slot machines were introduced around the turn of the century, and their popularity increases daily. For many players, playing slots is still the most enjoyable and relaxing form of gambling.
These so called 'one-armed bandits' can be found in every casino, with a variety of models and coin denominations to please every player, including mechanical, electromechanical video, and the new touch-screen versions. With one touch of the screen, you can change from poker to slots. There are three to nine reels, criss-crosses, multiples, progressives, and specialty machines such as 21, Keno, Videopoker, Poker Bingo, and Video Horse Racing and Dog Racing.
There are many different slot machine games. Jackpot size, combinations, symbols, size and number of coins allowed in each play vary as well. Included in these games are the popular Videopoker games. Modern slot machines are completely electronic. Symbol combinations come up randomly and machines are pre-programmed to return a certain percentage to the players.
Slots account for a good portion of a casino's action and winnings. They are simple to use, inexpensive to maintain, and require little or no skill to play.
To the player, a slot machine returns on average between 85% and 98%. The average casino advantage is calculated to be around 9%.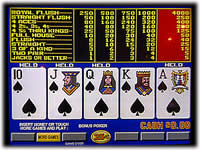 Videopoker
Videopoker is a draw poker in slot machine form. Players Hold or Discard from five cards showing and get a second deal, or stand with a pat hand. It has become the most popular game of chance among casino players in the U.S. Eighty percent of respondents to a recent survey in Las Vegas said they played videopoker.
There are important differences between Videopoker and Table Poker worth noting as follows:
In Videopoker the House is represented by a machine not a dealer and the video machine does not attempt to beat you.
You donít have to figure out what the other player's hand could be like when playing against other players.
You cannot bluff.
You do not run the risk of being beaten by another player. If you have a strong hand, you win. In Table Poker, you could have a strong hand like three of a kind and lose to another player who has a better hand.
A good decision in Videopoker may be a bad one for Table Poker. What is advantageous to hold in Videopoker may prove disadvantageous in Table Poker and vice versa.
Since its introduction in the early 1980's, Videopoker has grown into one of the casino's most popular games. Unlike regular Poker, which is played against other players at a poker table, Videopoker is played individually on a machine that uses video technology to create a Poker hand.
Based on the classic Five Card Stud, Videopoker challenges players to build the best possible five-card hand. The player is dealt five cards and has the option of discarding any or all of the cards. New cards are dealt to replace the discards.
Payoffs are based on a scale, paying players for hands as low as a pair of tens or Jacks all the way up to a Royal Flush. Like slot machines, Videopoker machines are available in many denominations, with 25c and $1 machines being the most popular. Many casinos also offer progressive payoffs or bonuses for Royal Flushes or other special hands. Videopoker provides variety too, with versions ranging from 'Jacks or Better' to 'Deuces Wild' and 'Jokers Wild'.


The ranking of hands starting from the highest are as follows:
Five of a Kind
Royal Flush
Straight Flush
Four of a Kind
Full House
Flush
Straight
Three of a Kind
Two Pair
A Pair
Five of a Kind is only possible when using a Joker or Wild Cards and is the highest possible hand.
Note: Las Vegas regulations require that the outcome of any hand in Videopoker not be affected by the number of coins played. If you get a good hand with one coin bet, you would have been dealt the same hand with two or more coins.
House advantage 3% average