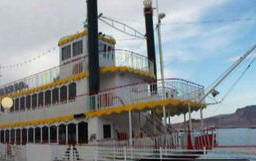 Las Vegas Cruises. Lake Mead Dinner Cruises. Grand Canyon Tours. Hoover Dam.

Click Here for Las Vegas Direct Guaranteed Lowest Vegas Hotel Rates!
Why pay more for the same Las Vegas hotel room?



While there are no direct cruises to or from Las Vegas, which is technically a desert, one can enjoy many types of Sailing & Water Tours in and around Las Vegas. Options include taking an up-close Grand Canyon tour down the Colorado river, Hoover Dam / Lake Mead Cruises where you can experience the largest man-made lake in the US, and Lake Mead steamboat dinner cruises.

If you plan on taking a cruise ship and stop at a port near Las Vegas, you can consider doing a side trip to Las Vegas when you are docked. You may also have this as a cruise excursion option that includes a tour bus or flight to Vegas.
Lake Mead Dinner Cruise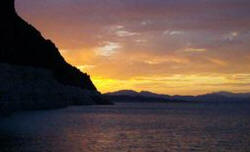 Lake Mead is about a 30-minute drive from Vegas. Visitors can can board a paddle-wheel steamboat to explore it.

Admire the wonderful evening views and unique scenery and wildlife surrounding Lake Mead. See the mighty Hoover Dam towering above you. And marvel at the engineering of the spectacular Hoover Dam bypass bridge.


A dinner cruise would not be complete without dinner ... You can enjoy a 3-course dinner with choices including prime rib, seafood, chicken, vegetarian and pasta dishes. details...


Hoover Dam Tour from Las Vegas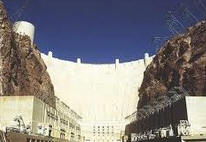 Your trip to Las Vegas won't be complete without a tour of the mighty Hoover Dam! Built during the Depression, thousands of men came to Black Canyon to tame the Colorado River, and it took them less than 5 years to build the largest dam of its time.

Viator is one of the largest tour operators and offers great Hoover Dam excursions that include:


Hoover Dam Express Tour:
This tour provides approximately 2 hours of free time at the Dam - where you can go on the two-hour guided discovery tour, visiting the exhibit gallery, penstock viewing platform, visitor center and more.

Hoover Dam Deluxe Tour:
This package includes a buffet lunch at Railroad Pass, followed by a visit to the Ethel M Chocolate factory and botanical gardens.

Hoover Dam Deluxe Tour and Lake Mead Cruise:
To make the most of your day, you have the opportunity to include a memorable 90-minute cruise on the Desert Princess paddle boat to enjoy the delights of boating on the largest man-made lake in the US. A picnic style meal is served aboard the boat.

You'll enjoy phenomenal views of Hoover Dam, admire the beauty of Lake Mead and see the colorful Arizona Paint Pots in stark contrast against the volcanic rocks of Black Mountain. Travel to Hoover Dam from Las Vegas in style and comfort aboard a luxury SUV. Your experienced guide will share many points of interest along the way so you can truly appreciate the extra care and comfort of the luxury vehicle.

The Hoover Dam by Luxury SUV and Colorado River Float offers ample time for exploring this National Historic Landmark and engineering wonder of the world. See live presentations, a fascinating film on the Dam's construction and history, exhibit gallery, observation deck, and venture down to the observation room in the power plant to view the massive generators.

You'll encounter dramatic views of both the Colorado River and Lake Mead, the largest man-made body of water in the Western Hemisphere. From the Lake Mead Overlook, you're transported to the Colorado River by van on the Lower Portal Road, where construction crews traveled each day. You'll see the original gauging station used to measure water level and flow, and dynamite storage bunkers used during construction.

Next, a guided Colorado River float tour by raft offers you close-up views few people have ever seen of Hoover Dam, mighty power plants, and Black Canyon. You'll also learn historical facts and get an astounding view of the Hoover Dam Bypass project and construction of the nearly 2,000-foot-long bridge spanning over 900 feet above the river. This tour offers absolutely the best photo opportunity of the Hoover Dam and Colorado River. details...
Grand Canyon West Rim Day Trip by Coach, Helicopter and Boat with Optional Skywalk
Travel by coach, helicopter and boat on an action-packed day trip to the Grand Canyon West Rim. It's one of the Las Vegas tours you can't miss! You'll ride a helicopter beneath the rim, cruise down the Colorado River, stop at the Hualapai Ranch for a cowboy cookout, and take a scenic drive along the Grand Canyon West Rim after lunch.

Your journey begins with an approximate 3.5-hour drive by luxury air-conditioned motor coach to the Grand Canyon West Rim. At the Grand Canyon, you'll hop aboard a million-dollar A-Star, six-seater helicopter with large vista windows and take a five-minute, slow descent to the Grand Canyon floor, approximately 4,000 feet (1, 200 meters) down!

Once you've reached the canyon floor, you'll board a pontoon boat for a ride down the Colorado River! You'll glide along the walls of the mighty Grand Canyon for approximately 15 minutes, then fly back up to the rim for a shuttle bus tour to Guano Point and Eagle Point.

At Eagle Point, you can view the Hualapai Indian Village and purchase handmade crafts and jewelry to take home with you. Guano Point affords a bird's-eye view of the canyon. Next stop is the Hualapai Ranch for a cowboy cookout! After lunch and a short scenic drive along the Grand Canyon West Rim, you'll head back to Las Vegas by luxury coach. details...

Grand Canyon Skywalk Upgrade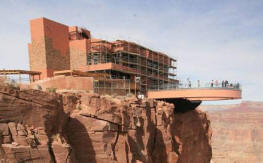 The latest attraction at the West Rim of the Grand Canyon is the glass bridge called the Skywalk. Perched 4,000 feet above the Colorado River, the Skywalk safely sits over the edge of the canyon for panoramic 360 degree views. details...
Venetian Outdoor Gondola Rides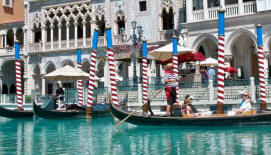 No trip to Venice or the Venetian would be complete without a romantic glide down the outdoor Grand Canal in an authentic Venetian gondola. Float beneath bridges as your gondolier sweeps you down the outdoor Grand Canal for a ride like no other. details...




To read about hundreds of other great Vegas adventure tours available, that include river rafting, skydiving, helicopter tours, Death Valley tours, Red Rock canyon hiking, ATV off-road desert rides, dune buggy rides, hot air balloon rides, Eldorado Canyon gold mine trips, horseback riding, Arizona and Utah National parks (Bryce Canyon, Zion National Park), zipline tours, exotic car driving, Hidden Valley and Primm ATV tours, race car driving, outlet mall shopping tours and more, just visit Viator Tours to book it today!