1. Take a taxi from the airport to your hotel. It will cost more than a shuttle, but itís worth it. The shuttle stops at almost every hotel on The Strip while a taxi takes you straight to your hotel.



2.

If you stay at the Luxor, request a room in the pyramid when making your reservation.

3.

Iím not sure if Frank Sinatra would have hung out in the Bellagio, but thereís something that's just right about hearing his voice crooning over the water-fountain show at this opulent hotel. The lobbyís ceiling is a rainbow of colored glass in shapes of butterflies and lily pads--very nice.

4.

Bottled water is very expensive at hotels ($4-$5). If you go to a store on The Strip, you can buy the same size bottle for much less ($1-$2).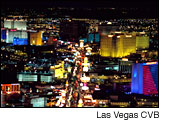 5.

Itís better to walk. Taxis are only good if you really need one--say, if you want to go downtown or to a hotel off The Strip, such as Rio or the Hard Rock Hotel. Otherwise, with all the traffic on The Strip, you're guaranteed to spend way too much money getting almost nowhere. Plus, the more you walk, the less guilt you'll feel about sampling another tasty meal.

6.

Donít take your wallet with you into the casino. Take as much money as youíre willing to lose, bring your driverís license and a credit card for other purchases, but leave your ATM card and the rest of your money in your room.

7.

Youíre still inside when youíre in New York-New York. Details from the interior: Outdoor cafes in courtyards surrounded by old, weather-beaten ads on sides of buildings, and steam coming out of manhole covers. Pigeons sitting on balcony rails and a high-school basketball trophy and old 40s-style lamp in the window. A bridge arched over a running creek and under a drooping willow tree.



8.

The two Guggenheim museums in the Venetian each charge $15 admission, which is more than you'll pay at the Met, SFMOMA, or Louvre. Wander through the gift shop and look at the coffee-table books instead.

9.

Talk to your cab drivers. If a cab driver in Elko, Nevada can tell some tall tales, just imagine the height of the tales youíll get out of a Vegas cabbie.

10.

How to drink cheaply without losing your shirt: Sit down at a nickel slot machine in a high-traffic area and play very slowly. A cocktail waitress will magically appear and take your order. Choose beer unless you want a very watered-down mixed drink. Tip her nicely. Repeat again and again and again.

11.

Just because hotels are right next to each other doesnít mean that they're actually close to each other.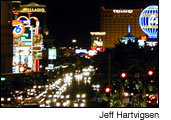 12.

Do you like MTV, the Los Angeles music scene, motorcycles, and crowded places? Then the Hard Rock Hotel is your place to go at night.

13.

Catch a sunrise. The vast desert provides a fantastic setting, with the sun peeking over the distant mountains and the sky and landscape constantly changing colors.

14.

Vegas actually has a soul. The front of New York-New York, near the Statue of Liberty, is now a memorial for 9/11. Hundreds, maybe thousands, of t-shirts from various fire and police departments around the world hang on the fence. Very powerful.

15.

Bottles of beer are only $1 at the bar in the Barbary Coast, possibly the last good deal on The Strip.

16.

Paris-Las Vegas does its namesake justice. The walls of the casino area are facades of quaint apartment buildings with lights flickering in the windows. Edith Piafís sparrow voice reverberates through the air. And all the signs above the tables and slot machines are replicas of the actual Art Deco gateway-to-the-metro signs.

17.

There are real lions inside the MGM Grand. Get there when itís feeding time.

18.

Ahhhh, Venice. I didnít want to like the canals with singing gondoliers coasting past St. Markís Square (inside the hotel, of course). I didnít want to enjoy a cappuccino at a table outside a cafť on the main walkway, surrounded by shops with faux apartments above them and street performers entertaining the crowds under a painted blue-sky ceiling. But I did.

19.

The Luxorís pyramid reflects the desert sun into the pool area, turning the chaise lounges into people-size baking trays.

20.

Lose the watch. Time just doesnít matter in this town. Youíll find yourself craving breakfast at 7pm and going to sleep at 11 in the morning. Indulge, relax by the pool, have another drink, and have fun.ē
---

Inside Scoop

| | |
| --- | --- |
| | Playing Blackjack? Remember This... |

Youíre not trying to get 21. Youíre trying to beat the dealer.
Double down on 11. You rarely have a chance to increase your bet in Blackjack, so take advantage of it whenever you can.
Blackjack is all about streaks. When youíre on a winning streak, it might be a good idea to bet more. When youíre losing, your best bet is to bet less. Donít try to win back all of your money at once or you just might lose twice as much.
Stay away from two-deck Blackjack. While you can actually try to count cards (never let the House catch you doing that!), the odds of winning decrease since there are fewer low-number cards for the dealer to draw.
Tip the dealer by placing a chip above the betting circle. The dealer only gets it if you win the hand, and it brings good Blackjack karma. If you lose, the house gets the chip--but itís a small wager that can increase your cosmic odds.
Share this page:

If you have questions or want to book by phone, call us at 1-888-ME-VEGAS / 1-702-425-7580
State Seller of Travel License: 2116448
© Copyright 1998-2017 Las Vegas Direct® All Rights Reserved